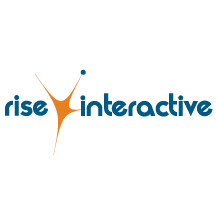 Chicago, IL (PRWEB) September 23, 2013
Rise Interactive, a full-service digital marketing agency, earned a Gold 2013 Tower Award, presented by the Business Marketing Association (BMA) of Chicago. The announcement was made at the 30th annual BMA Chicago Tower Awards Bash held September 17, 2013, at the Hard Rock Cafe in Chicago.
Rises award-winning social media marketing campaign combined two unique strategies: social media influencer strategy, which targets someone with a powerful voice in the industry and builds influencer advocacy through the creation of personalized content, and employee amplification or employee-to-consumer (E2C) marketing, which increases the reach of a brands content by empowering and rewarding employees for sharing branded content. The success of the campaign served as the catalyst for introducing Xmplifi, the companys new proprietary software that helps clients execute E2C campaigns more efficiently and effectively.
"Winning a Gold BMA Tower Award is an honor for Rise Interactive. We strive to innovate in every area of our business and receiving recognition from the BMA validates our hard work," stated Jon Morris, Founder and CEO of Rise Interactive.
The BMA Tower Awards recognizes companies, agencies and creative firms nationwide, for their excellence in developing and executing business-to-business marketing and communication campaigns from the past year. Click here for a comprehensive list of judges.
About Rise Interactive
Rise Interactive is a digital marketing agency in Chicago that specializes in digital media and analytics. Founded in 2004, Rise Interactive leverages customized reporting to equip quantitatively-minded individuals with actionable insights. The agencys Interactive Investment Management philosophy ensures that a clients budget is allocated to the most profitable marketing channels. Rises clients include Allstate Motor Club, Ulta Beauty and Northshore University HealthSystem among others. For more information, visit Rise Interactive or follow the company on Twitter @riseinteractive.
About BMA Chicago
BMA Chicago is the Business Marketing Associations single largest chapter, serving nearly 530 business-marketing professionals through professional development, networking events and programs. BMA Chicago enhances critical thinking, communication and managerial skills by bringing members face to face with the nations top b-to-b marketing thinkers and practitioners. For more information, visit the BMA Chicago website or follow the association on Twitter @BMAChicago.