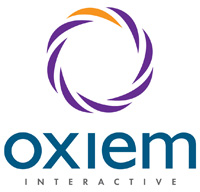 Columbus, Ohio (PRWEB) December 13, 2011
Oxiem Interactive, an integrated marketing agency, is making room in the trophy cabinet for awards bestowed recently by the Columbus American Marketing Association (AMA) and the Columbus Society of Communicating Artists (CSCA) for outstanding Web work.
Oxiem received awards in the Best Website and Best Online Marketing categories from the Columbus AMA. Oxiem was recognized during the Achievement in Marketing Awards at the Ohio Union at The Ohio State University in Columbus on Tuesday, November 15th.
In the category of "Best Website," Oxiems work on the Superior Beverage Group website redesign won top honors. An intuitive layout features quirky design elements like coasters and bottle caps to show the personality behind the brand. The refreshing visual approach is powered by some surprising functionality, like the websites social media aggregator which pulls together the brands social media feeds.
Oxiem also received recognition for its most recent work for Ohio Hi-Point Career Center, including the Ohio Hi-Point Pathfinder interactive experience and Hi-Point Commons, a private-but-still-social student intranet. The Pathfinder quiz and resulting career display page are powered by content streaming from the student-authored and previously awarded Hi-Point Journeys collaborative blog.
The Ohio Hi-Point series of web properties and online campaigns won for Best Online Marketing and was recognized as one of the top three entries in the Columbus AMAs overall online marketing category.
Oxiem also took home CSCAs Best Website award recognizing work done for Trupointe Cooperative, a 4,000+ member farm cooperative. The award was presented as part of the Columbus organizations Creative Best ceremony at the Lifestyle Communities Pavilion in Columbus on November 17.
Were thankful for the recognition and proud of our team, said Bill Sterzenbach, Co-Founder and Director of Technology. Each of these projects represents excellent client-partners for Oxiem, allowing us to use the newest technologies and concepts in design.
About Oxiem Interactive

Oxiem, a Columbus SEO company, brings a fresh approach to effective web marketing for companies large and small. By combining high-performance websites, effective search marketing programs, social networking and interactive flash media, Oxiem takes e-marketing to a whole new level. Visit http://www.oxiem.com .
###