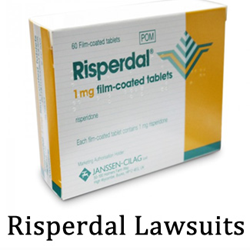 Columbus, OH (PRWEB) September 20, 2014
Nearly 780 Risperdal lawsuits are moving forward in the Philadelphia Court of Common Pleas where a meeting took place to discuss the next steps in the Risperdal side-effects complaints pending in the courts mass tort program. Attorneys for the plaintiffs and defendants were scheduled to meet this past week at the Complex Litigation Center in Philadelphias City Hall where the Risperdal complaints are consolidated for pretrial proceedings. The Risperdal lawsuits filed against Johnson & Johnson and its subsidiary, Janssen Pharmaceuticals, Inc., which markets and manufactures the antipsychotic drug, were filed on behalf of males who allege that they were prescribed the Risperdal and experienced abnormal breast growth, known as gynecomastia. The Gynecomastia complaints also contend that Johnson & Johnson and Janssen Pharmaceuticals, Inc., failed to warn consumers and health care providers about the side-effects of taking Risperdal. (In Re: Risperdal Litigation, Case Number 100300296)
Court records show that in a hearing in June, attorneys representing plaintiffs in the Risperdal mass tort program asked Philadelphia Court of Common Pleas Judge Arnold Newn to reconsider his order that prevents plaintiffs from seeking punitive damages against Janssen Pharmaceuticals, Inc. Judge New, who is supervising the Risperdal litigation, issued an order on May 2, 2014, that allows plaintiffs to only seek compensatory damages. The Judge News order also granted Janssens request to allow the New Jersey Product Liability Act to apply in the mass tort program because the company is headquartered in New Jersey. The New Jersey law does not allow punitive damages to be awarded against manufacturers of prescription drugs or medical devices if they have received pre-market approval by the U.S. Food & Drug Administration (FDA). Attorneys for the plaintiffs contend that Risperdal was marketed by the defendants for uses that were not approved by the FDA. (In Re: Risperdal Litigation, Case Number 100300296).
Over the past two years, Johnson & Johnson and its subsidiary, Janssen Pharmaceuticals, Inc., have been sued by state attorney generals over marketing Risperdal for uses that were not approved by the FDA. In August 2012, Janssen reached a $ 181 million settlement agreement with 36 states and the District of Columbia over its marketing of Risperdal. The state attorney generals and the District of Columbia sued the company for minimizing or concealing the risks associated with Risperdal and marketing the drug for unapproved FDA uses including treating elderly patients with dementia and bipolar disorder in children and adults. In a similar action, Johnson & Johnson agreed to settle a lawsuit for $ 158 million filed by the state of Texas over claims that the company defrauded Texas Medicaid program by downplaying the side-effects of Risperdal and promoting the antipsychotic drug for unapproved uses.

[nytimes.com/2012/08/31/business/johnson-johnson-unit-settles-state-cases-over-risperdal.html, August 30, 2012]

[bloomberg.com/news/2012-01-19/johnson-johnson-to-pay-158-million-to-settle-texas-risperdal-drug-case.html, January 19, 2012]
In addition to settling Risperdal lawsuits filed by states and the District of Columbia, Janssen Pharmaceuticals Inc. also reached agreements the following year with the U.S. Department of Justice (DOJ). The DOJ accused Janssen of marketing the drug for use in children and adolescents with behavior challenges without first receiving approval by the FDA and failing to disclose the health risks associated with the medication. The DOJ announced in November 2013 that Janssen was charged with a criminal count of misbranding Risperdal to which the company pleaded guilty and agreed to pay a $ 400 million criminal fine. According to the DOJ, Risperdal was not approved for use in children for any purpose until late 2006. Janssen was also investigated for promoting Risperdal for unapproved use in elderly dementia patients. As a result of the investigation, the DOJ charged Janssen Pharmaceuticals, Inc., with introducing a misbranded drug into interstate commerce. The company also paid $ 1.25 billion to settle a separate civil case regarding Risperdal. [justice.gov/opa/pr/2013/November/13-ag-1170.html, November 4, 2013] [fda.gov/NewsEvents/Newsroom/PressAnnouncements/ucm373499.htm, November 4, 2013]
Risperdal is approved by the FDA as an atypical antipsychotic drug to treat schizophrenia, bipolar disorder, and irritability in autistic children and adolescents. The findings of a study published August 6, 2014 in the Journal of Clinical Psychopharmacology supported the claims in Risperdal side-effects lawsuits that the drug causes men to develop gynecomastia. As part of the study, University of Columbia researchers examined the health records of 82,850 men, between 40 and 85 years old, who took various prescribed antipsychotic drugs, including risperdone, the active ingredient in Risperdal. Researchers found that 27 out of 174 men who used risperdone developed gynecomastia within two months of taking the drug. The University of Columbia researchers claim their study is the first large epidemiologic study that quantifies the risk for gynecomastia with risperdone. [journals.lww.com/psychopharmacology/Citation/publishahead/Risperidone_Use_and_Risk_for_Gynecomastia_in_Men_.99394.aspx, August 15, 2014]
About Wright & Schulte LLC

Wright & Schulte LLC, an experienced personal injury firm, is dedicated to the belief that Americas legal system should work for the people. Every day, the attorneys of Wright & Schulte LLC stand up for the rights of people who have been injured or wronged and fight tirelessly to ensure that even the worlds most powerful corporations take responsibility for their actions. If youre looking for a law firm that will guarantee the aggressive and personal representation you deserve, please do not hesitate to contact Wright & Schulte LLC today. Free Risperdal lawsuit case evaluations are available through yourlegalhelp.com or by calling 1-800-399-0795.
Contact:

Wright & Schulte LLC

812 East National Road

Vandalia, Ohio 45377

1-800-399-0795

http://www.yourlegalhelp.com

Like us on Facebook

Follow us on Twitter

Join us on Google+