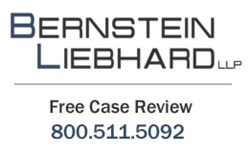 New York, New York (PRWEB) January 31, 2014
As Risperdal lawsuits (http://www.risperdallawsuitcenter.com/) that allege use of the antipsychotic medication caused gynecomastia (male breast growth) and other serious side effects continue to move forward in Courts around the country, Bernstein Liebhard LLP notes that Johnson & Johnson has successfully appealed a verdict rendered in a Risperdal marketing lawsuit filed on behalf of the state of Louisiana. In a 4-3 decision reached on January 28th, the Louisiana Supreme Court found that state prosecutors did not prove that the company had violated Louisiana law by making misleading claims regarding the safety and efficacy of Risperdal. According to court documents, the ruling reverses a $ 258 million judgment levied in 2010 against Johnson & Johnson and its Janssen Pharmaceuticals unit in the case. (Caldwell v. Janssen Pharmaceutical Inc., Civil Action 2012-C-2466)
Plaintiffs in lawsuits that allege a connection between Risperdal and gynecomastia, as well as those involving other injuries, should understand that this ruling does not impact their claims. Those cases will continue to move forward, says Bernstein Liebhard LLP, a nationwide law firm representing the victims of defective drugs and medical devices. The Firm is currently offering free Risperdal lawsuit reviews to men and boys who allegedly experienced male breast growth due to their use of Risperdal.
Risperdal Lawsuits

According to court documents, the Louisiana Risperdal lawsuit was just one of several that have accused Johnson & Johnson and Janssen of improperly marketing the medication. In November 2013, the two companies agreed to pay $ 2.2 million to resolve a similar case involving Risperdal and other drugs that was brought by the U.S. Department of Justice. Among other things, federal prosecutors had accused the drug makers of improperly marketing Risperdal for use in children, and further alleged that the two companies had concealed the link between Risperdal and gynecomastia. (U.S. District Court, Eastern District of Pennsylvania, 04-cv-1529)
On February 27th, the Arkansas Supreme Court will hear oral arguments in Johnson & Johnsons bid to overturn a $ 1 billion verdict in a Risperdal marketing case brought by prosecutors in that state. (State of Arkansas v. Ortho-McNeil-Janssen Pharmaceuticals Inc., CV07-15345)
Johnson & Johnson and Janssen have also been named in about 200 Risperdal lawsuits pending in Pennsylvanias Philadelphia Court Common Pleas that have been filed on behalf of individuals who allegedly developed gynecomastia and other side effects due to the drug. According to court documents, those lawsuits also claim that Risperdal was marketed for use in children long before it was approved for pediatric uses in 2006, and that the companies concealed side effects associated with the medication. (Risperdal Litigation, case number 100300296)
Individuals who allegedly developed gynecomastia due to their use of Risperdal may be entitled to compensation for their injury-related damages. To find out more about filing a Risperdal lawsuit, please visit Bernstein Liebhard LLPs website. Free case reviews may also be obtained by calling the Firm directly at 800-511-5092.
About Bernstein Liebhard LLP

Bernstein Liebhard LLP is a New York-based law firm exclusively representing injured persons in complex individual and class action lawsuits nationwide since 1993, including those who have been harmed by dangerous drugs, defective medical devices and consumer products. The firm has been named by The National Law Journal to the Plaintiffs Hot List, recognizing the top plaintiffs firms in the country, for the past 11 consecutive years.
Bernstein Liebhard LLP

10 East 40th Street

New York, New York 10016

800-511-5092
ATTORNEY ADVERTISING.