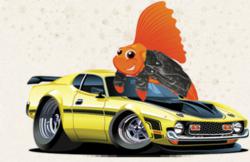 Las Vegas, NV (PRWEB) January 13, 2013
Purpose Inc. along with All Phase Hosting will be putting on an exotic car race at the Las Vegas Motor Speedway on January 13th, 2013 for affiliates attending Affiliate Summit West 2013 in Las Vegas, Nevada. There event is exclusive and invite only. Some big names in the Affiliate industry will be participating in the race such as Shoemoney, John Chow, Ryan Niddel, and dk.
Purpose Inc's owner stated, "We wanted to put together an amazing one of a kind experience for all our affiliate brethren. All Phase Hosting is doing an amazing job putting this together and allowing us to be a part of it. Anyone that would like to attend can apply for an invite at my website."
In addition to the car race, Purpose Inc is holding an invite only backroom SEO talk for industry big hitters. Purpose Inc directs Affiliate Summit attendees interested in the talk to apply at their blog for an opportunity for an invite.
Purpose Inc.'s annual poker tournament kicks off on Monday, January 14th, 2013 at 7:00pm at the Mirage Hotel & Casino High Limit Poker Room after the last event for the day at Affiliate Summit West 2013. You must be an attendee of Affiliate Summit to play, guests are welcom. For more information and registration details visit the Purpose Inc poker tournament post.
Purpose Inc was quoted as saying, "Affiliate Summit West 2013 is a great conference and we want to thank Shawn and Missy for always putting together an awesome event. We hope that we can add to that experience and look forward to being in Vegas each year."
Purpose Inc. invites all attendees of Affiliate Summit to come out and have some fun at all or any of their events.
About RoadFish.com:

RoadFish.com is an online mens lifestyle and finance magazine that features articles about mens luxury items, top vacation sites, dating advice, and more. The online magazine is targeted towards men in their 30s and 40s who have already achieved moderate success in life, and are striving to accomplish their next ambition. RoadFish.com discusses hot events such as poker tournaments and car races, hot chicks, restaurant reviews, and financial advice. RoadFish.com is owned and operated by Purpose, Inc.