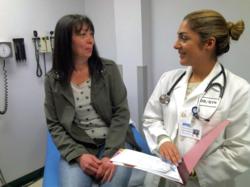 Staten Island, NY (PRWEB) May 10, 2013
Tracey Tempone, who works as a unit clerk on SIUHs oncology unit, had skipped several years of annual checkups. When the 48-year-old mother of three decided to take better care of herself, she made her first appointment to see her gynecologist, which proved prophetic.
During the exam at Dr. Gary Spierers office, the physician assistant found something wrong right away. And when biopsy results diagnosed cancer, Dr. Spierer referred Tempone to Dr. Nisha Bansal, a new gynecologic oncologist on the SIUH faculty who trained in robotic cancer surgery at the prestigious Moffitt Cancer Center, University of South Florida.
From their first appointment, Tempone said she felt comfortable and confident with Dr. Bansal, pleased to be a candidate for robotic radical hysterectomy.
As Dr. Bansal discussed options for surgery to remove her State 1 cervical cancer, Tempone said she found it easy to make a decision. I didnt want the old-fashioned abdominal hysterectomy which involves removing the uterus through a 7-inch incision that runs either up-and-down the abdomen or from side-to-side across the belly, Tempone said.
Typically, women with early stage cervical cancer undergo radical hysterectomy which involves surgical removal of the upper vagina, cervix, as well as the tissue surrounding the cervix, uterus, ovaries, fallopian tubes and select lymph nodes.
With open radical hysterectomy, women usually spend at least three days in the hospital. Im not one for that, said Tempone. I wanted to be home with my family, she emphasized.
According to Dr. Bansal, her patients minimally-invasive robotic procedure was completed in two-and-a-half hours. My use of the daVinci Robotic Surgical System did not add any time to the surgery, said Dr. Bansal. This is meaningful because some critics maintain that robotic surgeries take longer and run up operating room costs.
As a surgeon, I appreciate the fine-tuned range of motion the robot provides. Its a plus when I am performing complex pelvic dissection and operating near critical structures of the urinary tract, Dr. Bansal explained.
The robot offers the surgeon a three-dimensional field of vision. In 3-D, I can see the smaller blood vessels more easily. This decreases blood loss and helps me to gain a better margin around the malignancy, Dr. Bansal said. Robotic surgeries often mean faster recovery without compromising cancer care.
As for Tracey Tempone, leaving the hospital the day after surgery was perfect. Being at home with my two-year-old granddaughter gave me the best emotional boost I could have.