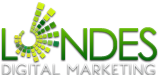 Spencerport, NY (PRWEB) December 28, 2012
Londes Digital Marketing (LDM) is excited to offer small businesses strategies to make big impact online. Designed specifically for small businesses, these new flexible packages offer design, search engine optimization (SEO), social media, and paid search services to companies exactly how they need it each month.
With individuals specializing in design, development, marketing, and social media, LDM can provide a large range of online marketing services to small businesses. Small Businesses can choose what they need each month: one month they might need to use all their time on design, the next all on SEO, and the next split between social media and print design.
Small business owners have a lot to do. We help make managing everything easier by being a one-stop-shop for all their online marketing needs, explained Patrick King, Local Business Specialist at LDM.
On top of increasing search engine rankings for Rochester companies, LDM now offers professional web design to create new modern, effective websites or give fresh facelifts to older ones in need of a redesign.
Londes Digital Marketing created a website that gives our customers a feel for the small-town, family-friendly business we are, Dr. George McKenna, of Country Lane Veterinary Services, said about LDMs web design services.
Businesses that are looking to get started or improve their online presence can satisfy their customers with tailored work in social media (Twitter, Facebook, LinkedIn), online or print media ads, and flexible targeted advertising. Through integration with Google Analytics, Londes Digital Marketing also provides a wealth of ongoing performance data about site visitors to optimize online marketing campaigns and continually improve ROI.
Just because you cant hire a full-time graphic designer doesnt mean you cant have professional marketing material, continued Pat. As having a professional online presence becomes more and more imperative, even for small businesses, we want to make achieving it cost-effective for companies of all sizes.
To get started on your customizable online marketing package, contact Pat King at patk (at) londes (dot) com or call (585) 617-3242. Visit the office at Londes Digital Marketing, 4 West Avenue, Spencerport NY 14559 or online at the Rochester Small Business Marketing page.
Londes Digital Marketing is a digital marketing agency specializing in SEO, SEM, and Web Analytics. Their quantitative approach to online marketing campaigns helps enterprise-level clients maximize ROI through ongoing analysis, testing, and optimization.