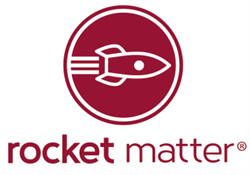 Boca Raton, FL (PRWEB) February 03, 2015
Rocket Matter, the pioneering company behind the first cloud-base law practice management system, today announces Marketplace, an online store for additional services. The Rocket Matter Marketplace will initially feature Internet Marketing Services (IMS), including website, logo, and social media design work, as well as the companys highly regarded educational content.
Rocket Matters books and webinar series are designed to help law firms become better at the business side of their practice, and are geared towards revenue growth and operational efficiency. Additionally, Rocket Matters community and fan base will be able to purchase branded clothing and accessories through Marketplace.
With Marketplace, we at Rocket Matter want to go beyond saving time and making life easier for attorneys. We want to help law firms reach their full potential, says Larry Port, CEO of Rocket Matter. Rocket Matter is about growth. We help law firms increase revenues through better billing practices, an effective online presence, and a more streamlined, mobile, and less stressful practice.
Adds Port: Were also lucky to boast a great community of users who like our sense of fun and dig our branding and want t-shirts, mugs and the other cool stuff we make.
Rocket Matters Internet Marketing Services (IMS) replaces the Rocket X1 brand, which was rolled out in 2013 and was a one-size-fits-all solution to law firm Internet marketing. Based on strong demand, IMS now offers a la cart services for website construction, logo design, and social media setup at many different price points for firms of all sizes.
Marketplace also debuts Rocket Matters latest book available in paperback, "The Digital Marketing Playbook for Law Firms." The companys newest addition to their content lineup discusses the challenges law firms face and provides tips, tools, and strategies to help lawyers and law firm marketers make informed decisions for a thriving online presence.
"The Digital Marketing Playbook for Law Firms," as well as Rocket Matters previous books, "Heroic Lawyering" and "The Law Firm of Tomorrow," are available for purchase on Marketplace.
About Rocket Matter:
Rocket Matter, LLC (URL: http://www.rocketmatter.com) helps law firms grow revenue through legal software, marketing assistance, and educational content. The companys flagship product, Rocket Matter