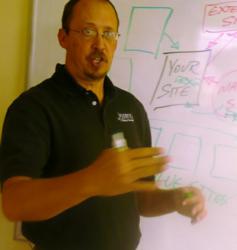 Grand Junction, CO (PRWEB) June 03, 2013
How-to SEO training will be getting a boost in Utah in July. The Rocky Mountain Search Engine Academy, headquartered in Grand Junction, Colorado, will be hosting a unique SEO training program for businesses and web development professionals interested in improving their website visibility in Google, Bing, Yahoo, Facebook, Twitter, and across the Internet generally.
The academys Master SEO Class is a 5-day workshop that provides comprehensive instruction designed to take a student from novice to advanced in one fast-paced week of instruction and practice.
Ross Barefoot, the owner of the Rocky Mountain Search Engine Academy and a licensed trainer with the Search Engine Academy of Ontario, Canada, said, Its exciting to be able to bring this level of training to Salt Lake City. The Search Engine Academy has conducted SEO workshops around the world with great success, but this is the first time weve hosted one in Utah.
Business owners and web development professionals are always interested in getting higher rankings on Google, but they dont know quite how to go about it, Barefoot continued. Our workshops are designed to cut through the myths and rumor and focus only on tested methods that produce results.
The Search Engine Academy claims to teach not only accepted SEO best practices but to go beyond that by including material not found in any other SEO training program. The methods taught, which the company states always conform to Google guidelines, are often based on proprietary research and practices developed by Search Engine Academy associates throughout more than a decade of search engine marketing consulting work with large and small companies.
The Search Engine Academy offers certifications to attendees who are able to successfully complete a knowledge exam at the end of the course.
Business owners, web designers or employees in charge of marketing can register online at the Rocky Mountain Search Engine Academy's internet marketing class registration page or contact them directly +1-888-688-9849 to get more information.
About the Rocky Mountain Search Engine Academy
The Rocky Mountain Search Engine Academy (RMSEA) is a licensed affiliate of the Search Engine Academy of Toronto, Canada, and is based in Grand Junction, Colorado. The RMSEA offers workshop-based, professional SEO training to business leaders and web professionals in Denver, Colorado and Salt Lake City, UT. The RMSEA also offers in-house corporate training to businesses nationwide. For more information call 970-773-5222 or visit their website, http://www.RockyMountainSearchAcademy.com.
About Ross Barefoot
Ross Barefoot is a 35 year veteran of small business management and a 12-year veteran of professional Search Engine Marketing. He started in website development in 1996 and began his own web design and Internet Marketing company, FLEXISS, in 2001. He sold that company in 2011 in order to focus exclusively on SEO training and consulting. Barefoot also is the chief SEO strategist for Horizon Web Marketing, based in Las Vegas, NV, and can be reached at ross(at)rockymountainsearchacademy(dot)com.