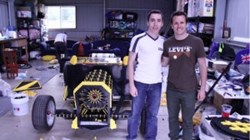 Melbourne, VIC (PRWEB) December 18, 2013
Not long ago, a stranger from Romania reached out to a fellow marketing genius in Melbourne, named Steve Sammartino, to fund getting a spaceship made of LEGOs into orbit. Raul caught the attention of Steve by simply stating, Hi, Im building a spaceship. Since the success of that first encounter, a new venture entitled the Super Awesome Micro Project was launched and arrived in Melbourne, Australia last month through the additional support of funding patrons like David Jenyns, the Director of Melbourne Video Productions.
Getting the nerve, let alone the financial backing, to see a major project of any type through to fruition is a challenge for most inventors. However, a young man from Romania named Raul did both with his scientific dreams and is now seeing his vision become a popular reality.
The Super Awesome Micro Project is a functional, full-size LEGO car which runs on air. The car is comprised of more than 500,000 LEGO pieces including the engine. The engine runs on air and the car has a top speed of 20 to 30 kilometers per hour. It was built in Romania and shipped to a secret location in suburban Melbourne. See the YouTube video here – 120,000+ views on YouTube in under 24 hours.
"The complete story behind the Super Awesome Micro Project is not only exciting, but inspiring," says Jenyns, "which is why I decided to get intimately involved with it." The marketing strategist and web video expert was among the initial crowd funders of the project. "I also donated some time and resources from my Melbourne Video Production team, too." Jenyns later learned all about the innovation through his interview with both Steve and Raul, where they reveal more about the workings of their non-commercial partnership.
Jenyns goes on to say that "Supporting imagination, aspiration, and big dreaming is what this is all about. Sometimes its not about the bottom line, sometimes its just about being a part of something amazingly bigger than you something great like the Super Awesome Micro Project."
The video production Director was reminded of himself in his younger days when we saw Raul's ambition, "I'm so excited to be a part of this genius's journey. I know this project will inspire people to take that first step towards their own dreams." Jenyns' web video and marketing businesses can help others turn their ideas into reality with a wide suite of services. "Just like Raul, remember, big dreams all start by first reaching out. It won't happen until you take that first step." Learn more about the young Romanian's Super Awesome Micro Project here and listen to an interview with the founders here.
About Melbourne Video Production
MelbourneVideoProduction.com.au is a division of MelbourneSEOServices.com, a full service search engine optimization (SEO) consultancy, based in Australia, but with a worldwide client base.

Melbourne Video Production has the unique ability to combine their web video expertise with strategic SEO practices from Melbourne SEO.
Director, David Jenyns, has, over several years, built a team of experts who are niche experts to support the business, and who share his ethos for ethical, professional internet marketing and web video.