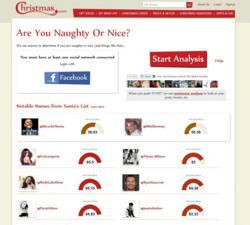 THE NORTH POLE (PRWEB) November 01, 2012
Christmas.com, the Official Site of Christmas, released today a high-tech Naughty or Nice list along with a new website and gifting engine targeted to consumers who want to share Christmas with friends and family. The Santa-lyzer analyzes public comments, Twitter updates, and Facebook posts using a technology called sentiment analysis. Initial results found that President Obama had a nice-ness factor of 58.9% vs. 50.36% for former-Governor Mitt Romney.
View the full analysis of Obama v. Romney found at http://www.Christmas.com/list
In re-launching Christmas.com, we wanted to make things easier for people as they enter the busiest time of year, said John Lyotier of Christmas.com. However, we also wanted to make it easier for Santa to determine who has been naughty and who has been nice. This is where Sentiment Analysis comes in.
Sentiment analysis uses natural language processing, computational linguistics, and text analytics to identify and extract subjective information in source materials. In other words, when a person speaks or writes something, their output is an emotional communication to the reader or listener. The analysis of President Obama and former-Governor Romney included the transcripts of the three Presidential Debates, their respective speeches at the Democratic and Republican nominations, and the public Tweets from their official campaign Twitter accounts.
Continued Lyotier, In addition to analyzing the two Presidential candidates, we also looked at the public tweets of more than 30 other public figures: from Eva Longoria (who was rated the nicest), to SnoopDogg (middle of the pack), to Bill Maher (lowest). While our Santa-lyzer indicated that Romney is naughtier than Obama, both candidates were found to be naughtier than 29 of the other 32 people that were analyzed.
The Santa-lyzer is available for everyone to check where they are on Santas naughty list at Christmas.com.
*About Christmas.com*

Re-launching in October 2012, Christmas.com is a social discovery e-commerce site that will make sharing and keeping track of wish lists and gift ideas easier than ever before. As The Official Site of Christmas, the website features gift suggestions, comparison shopping, charitable gift suggestions, and more. Christmas.com has been built and managed by Left of the Dot Media Inc.
*About Left of the Dot Media Inc.*

Left of the Dot Media transforms underutilized domain names into leading web brands, where each brand has the opportunity to change its entire market segment. In addition to Christmas.com, web properties under management include HomeDecor.com, Villa.com, Massage.com, Importers.com and many more. Left of the Dot Media is located in Maple Ridge, British Columbia. More details about the company can be found online at http://www.LeftOfTheDot.com


30 –
Media Inquiries:

Brenda Christensen, Stellar PR

Email: PR_Elf(at)christmas(dot)com

Phone: 1.818.307.9942