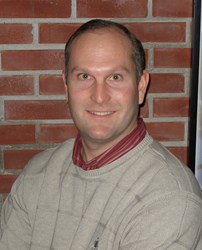 Queens, NY (PRWEB) November 27, 2013
Peter Plate has been an OEM Member of the New York Society of Fleet Supervisors since 2005. As a representative of Rosco Vision Systems, Peter has chaired the OEM committee and continues to support the organization with his years of experience in the Fleet Safety Industry. Peter was named Member of the Month for the month of November 2013 and was honored at their monthly meeting on November 20th, 2013. In the past, Peter has presented on the importance of equipping trucks with the proper mirrors and installing cross view mirrors to comply with New York laws.
Peter Plate, wife Nancy of 21 years, and four sons reside in Fort Salonga, Long Island NY. Peter holds a bachelors degree in Electrical Engineering from Manhattan College and has worked in engineering, sales and marketing capacities over the past 25 years of his career in diverse industries such as utilities, materials handling, and automotive component manufacturing. Peter has directed Roscos sales, marketing and product development efforts for the past 10 years at Rosco and is an inventor on multiple Rosco patents involving mirror and digital vision products. In recent years, Peter helped to develop two generations of the Dual-Vision continuous and event based recorder device and DV-Pro database management and reporting software. He is responsible for $ 35 million in annual Rosco sales, hundreds of Rosco OEM, insurance, dealer and fleet relationships, and a staff of 15 Rosco field and office professionals dedicated to expert product application and maintaining Roscos 100+ years of industry leading customer service. When not promoting vision safety at Rosco, Peter enjoys fishing, boating and coaching his sons in lacrosse and football.
About New York Society of Fleet Supervisors

The Society of Fleet Supervisors was established to promote efficient fleet operations through the exchange of ideas and experiences in the selection and training of personnel, supervisory techniques, maintenance, production, safety, labor relations, plant layouts, supplies and equipment, insurance and related subjects, and to improve Members' prestige and image through training, education, public relations, and increased exposure to all facets of the transportation industry.
About Rosco, Inc.

Rosco, Inc. is North America's largest bus mirror manufacturer, and a vision safety leader in backup camera systems, automotive windshield based camera recording, rearview interior/exterior mirrors and sun visors in numerous bus, truck, specialty, recreational and military vehicle markets. Founded in Manhattan, New York in 1907 as a safety product manufacturer for the automotive and aeronautical markets, Rosco moved to its current location in Queens, New York in 1964. Over 100 years later, the company is the largest supplier of mirror and camera systems to the North American bus, truck, military, and insurance markets, selling to all major OEMs and parts distributors including Navistar/IC Corp., Freightliner/Thomas Built, Blue Bird, AM General and insurance companies like National Interstate and Lancer.