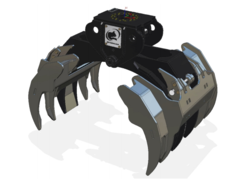 (PRWEB) June 22, 2012
Rotobec's HDBR Series are specially designed BOLT ON brush rakes for the HD and SHD series log grapples. These BOLT ON rakes are engineered to bolt right on to new and existing HD and SHD log grapples with no cutting or welding. Easy on, easy off.
The Rotobec HDBR's (Heavy Duty Brush Rakes) can be sold with an available stand which is ideal for applications where both a log grapple and a brush rake are required.
The Rotobec HDBR's are an excellent addition for customers with a Rotobec HD or SHD grapple working in; right of way clearing, brush clean up and piling, feeding a grinder, storm clean up.
Why buy a purpose built brush rake grapple when you can easily convert your existing Rotobec HD/ SHD grapple, have the best of both a rake and a log grapple today.
Call us today for more information and a quote.
Mark Shukla – Director of Sales and Marketing

(424) 653-9019

markshukla(at)gmail.com