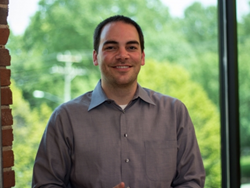 Charlotte, NC (PRWEB) November 15, 2014
Roy Morejon, President of the leading digital marketing agency Command Partners, has been chosen to be the keynote speaker at the 2014 PowerUp Greenville conference. The conference will take place on November 18th in Greenville, South Carolina- attendees will hear from business leaders on how they overcame challenges on the road to success.
PowerUp Greenville is aimed towards highly-motivated leaders and entrepreneurs who are interested in learning new strategies on how to succeed and overcome obstacles. Business leaders from the region and around the nation will be speaking from personal experience on the best ways achieve success in leadership.
No one can achieve the success they want without experiencing a few challenges, said Morejon. Im looking forward to sharing my experiences in the hopes that aspiring leaders can learn from my past and the choices Ive made.
Morejons agency, Command Partners, has helped hundreds of clients achieve marketing success online and focuses on working with startups. The Agency Post even named it one of the top marketing agencies for startups in the country. Command Partners has helped high-profile startups, like Bunch O Balloons, raise over $ 12 million on a variety of crowdfunding platforms including Kickstarter and Indiegogo.
The conference is organized by Greenville Business Magazine, the leading publication for business leaders and entrepreneurs in the Greenville area. It will be held on November 18 at the Clemson University International Center. Conference tickets are available for $ 25.00 and can be purchased until the day of the event. Those interested in attending the conference can learn more or purchase tickets here.
To find out how Command Partners can help a business or crowdfunding project succeed, visit http://www.commandpartners.com or call 704-910-5727.
About Command Partners
Command Partners works with innovative clients around the globe and focuses on results-driven marketing strategies for driving online visibility and lead generation through social media marketing, search engine optimization, public relations and strategic advisory services for startups. To learn more about the companys leading digital marketing services, call 704-910-5727 or visit http://www.commandpartners.com.