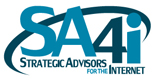 Houston, TX (PRWEB) December 27, 2012
Houston, Texas-based Internet marketing and consulting company SA4i (Strategic Advisors for the Internet) is pleased to announce their comprehensive and progressive approach to Search Engine Optimization, Search Engine Marketing, Social Media, and more: Internet Presence Management or IPM. The innovative approach of IPM, developed by SA4i, is among the first in the country to focus on more of the important aspects determining how search engines prioritize search results.
Every company or business is now on the net in one form or another said Ben Scardello, Founder and CEO of SA4i. Most importantly, says Scardello, each organization, whether for profit, nonprofit or educational, has an internet image, reputation, and impression to anyone discovering its information. We call it the clients Internet Presence and we endeavor every day to improve the overall relevancy value of each client with our IPM service.
SA4is new program takes into account not only the traditional work required to rank keywords successfully for search engines, but also addresses the wide spread collection of all relevancy aspects in searches within the internet.
As one of the first to significantly expand the concept of traditional search engine optimization (SEO), the IPM methodologies of SA4i may become an industry best practice standard utilized by many internet consultants and advisors throughout the country.
Strategic Advisors for the Internet (SA4i) is a professional online consulting and marketing group headquartered in Houston, Texas representing a growing number of prestigious local, state, national and global clients.
For further information about Internet Presence Management as well as website design & development services of SA4i, please contact SA4i at 281-661-8900 or visit the SA4i website.