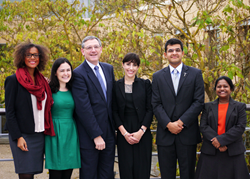 Oxford (PRWEB UK) 2 December 2014
The first five Oxford Pershing Square Graduate Scholarship winners have joined the Oxford 1+1 MBA programme, entering their MSc programmes in departments across the University of Oxford this autumn, before joining the Oxford MBA programme in September 2015. The application process for the Oxford Pershing Square Scholarships for 2015-17 has recently opened. Extraordinary individuals determined to tackle social challenges are invited to apply to the Oxford 1+1 MBA programme.
The Oxford Pershing Square Scholars come from a variety of professional and cultural backgrounds and share a remarkable commitment to creating social change in communities around the world. Their individual projects include creating opportunities for young entrepreneurs in Ghana and Nigeria, protecting consumer privacy through strategies for ethical and responsible advertising, developing a model for critical and creative learning in primary schools, improving sanitation in India, and early childhood educational reform in low income communities. The scholars were chosen for their ambition and innovative solutions to global challenges, as well as their persistence and determination to understand the wider context of these problems.
The Oxford Pershing Square Graduate Scholarship has helped me realise my dreams of studying at the University of Oxford, says Gayathri Balan, Oxford Pershing Square Scholar 2014-16. My aim is to harness the welfare component of the MSc in Comparative Social Policy programme and the social entrepreneurship element of the MBA at Sa