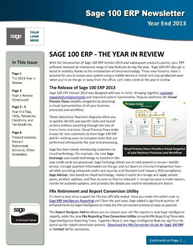 Aliso Viejo, CA (PRWEB) November 25, 2014
Juice Marketing LLC, an ERP channel marketing firm specializing in Sage Partner Marketing Programs, has announced immediate availability of their Sage 100 ERP year-end 2014 newsletter. Part of the companys popular newsletter marketing program, this special and expanded year-end issue includes 7 pages of detailed tips, tricks, videos, and other resources to assist in year-end closing procedures and preparations in Sage 100 ERP.
Mark Badran, Managing Partner at Juice Marketing notes that the Sage 100 year-end newsletter is always popular with Sage Partners. Theres just a lot more content, specific product tips, and detailed guidance related to Sage 100 ERP closing procedures. We get Sage Partners coming out of the woodwork that we havent worked with all year just to purchase this specific year-end issue for their cusotmers.
The articles in the Sage 100 ERP year-end newsletter include: