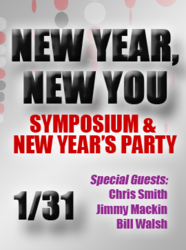 San Diego, CA (PRWEB) January 31, 2013
Samuel Scott Financial Group is proud to be the title sponsor of the 2013 Real Estate Symposium and New Years party for Real Living Lifestyles Real Estate in San Diego. The annual event, New Year New You, is designed to help real estate agents revolutionize their marketing efforts and take their real estate business to new heights.
"As the preferred lender for this progressive real estate company, Samuel Scott believes in giving back to the agents through educational programs and resources. And, New Year, New You is packed with high-value content for Realtors," said Todd Pianin, owner of Samuel Scott.
Real Living Lifestyles has enlisted the help of some of the most cutting-edge experts in the field of digital marketing and social media to share their knowledge and advice. Among the guest speakers is Chris Smith, whose Inman News videos have made him a favorite among tech savvy agents. Other keynote presenters include the CEO of Powerteam International, Bill Walsh and Facebook for Real Estate phenom, Jimmy Mackin.
Agents will also get expert coaching and niche-specific training through a series of breakout sessions where agents will be able to choose what workshops they want to explore. The breakout sessions will cover an array of topics, like: Not Your Average Legal Panel, Using the iPad to Close Business and Killer Content for Rockstar Resources for Realtors.
"We're very excited about our break out session," said Pianin. "Erica Liodice, our Marketing Director, is going to share some very powerful new marketing tools for real estate pros. These are game-changing resources that clients are going to love."
Knowing that interaction and communication are key, the event also includes a Genius Bar Lunch Break with Chris Smith and Jimmy Mackin and a Q&A-driven Mortgages & Services Panel. The Mortgage Advisors, title pros and escrow experts that support Real Living have all come together to share their secrets for successful transactions. Joined on stage by three top agents, they will be offering practical advice to help agents close more business.
About Samuel Scott Financial Group
Samuel Scott Financial Group is a boutique mortgage company recognized for superior customer service and the way their Mortgage Advisors tailor the residential loan process to fit each individual client. Consistent and reliable, Samuel Scott Financial Group has been selected as The Best Mortgage Company in San Diego for the 6th straight year by readers of local publications. In 2012, the San Diego Business Journal recognized Samuel Scott as one of The Best Places to Work in San Diego and they were named on Inc. 5000s list of the fastest growing companies in the nation.
Interested in a career at Samuel Scott? Or working with us as a real estate partner? Contact Russ Schreier at 858.436.1187. For more information, visit http://www.SamuelScottFG.com
Samuel Scott Financial Group is licensed by the CA Dept. of Real Estate, Real Estate Broker License 01458652 and NMLS 235584. Equal Opportunity Lender. All rights reserved.