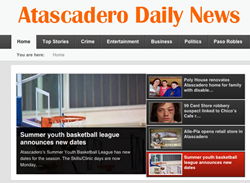 Atascadero, CA (PRWEB) June 10, 2015
Access Publishing officially announced this week the launch of the Atascadero Daily News. This new website will provide readers with Atascadero news including original stories and reports from local news sources. Local staff writers will be creating original content for the site, and the site will also publish press releases from local groups, organizations and other sources.
Access Publishing CEO and Publisher Scott Brennan says he decided to start the new website after experiencing tremendous success with the companys news site, the Paso Robles Daily News.
We started the Paso Robles Daily News to fill a void in online local news coverage. The response was hugely positive. Many Atascadero residents came to us saying that they loved the Paso Robles Daily News and wished we had similar website for Atascadero, Brennan says.
Those residents will have their wish granted with this new news site. The Atascadero Daily News will be the most comprehensive news website for Atascadero residents, providing hyper-local, Atascadero-specific news stories and updates, says Brennan. We are very excited to tackle this new project.
Brennan is a self-described "news junkie" who started The Paso Robles Daily News as a hobby. "An old editor of mine told me that once the ink from the newsprint gets into your blood, it never leaves," says Brennan. "He couldn't have been more right. Now-a-days the ink flows online."
Press releases are welcome from local clubs, teams, companies and organizations looking to promote their news, events and activities. Submissions are subject to editing.
We are accepting and publishing news releases from everyone from small businesses, sports teams and local public relations firms and marketing agencies, says Brennan.
Top stories for the site will include crime, politics, business, entertainment and regional stories. Breaking news and top stories will also be featured on the websites Facebook page.
To subscribe for free, go to atowndailynews.com/subscribe/.
About Access Publishing
Access Publishing is a media company based in San Luis Obispo County, CA, that provides local business marketing solutions. Access Publishing is a local leader in online marketing, Internet advertising, local search engine optimization, web design, article writing and graphic design. Access Publishing creates magazines, guides and directories in San Luis Obispo County, CA.
Access Publishing

806 9th Street #2D

Paso Robles, CA 93447

(805) 226-9890.