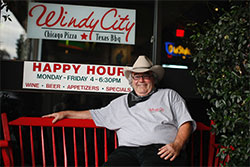 San Mateo, California (PRWEB) November 21, 2014
Windy City Pizza & BBQ, a restaurant that specializes in deep dish pizza and Texas Smokehouse BBQ, launched its new website this week. Over 25 years ago, owners Bob (Bubba) Yeats thought Why not take food from two fun-loving places – Texas and Chicago – and share it with the folks on the San Mateo Peninsula, who also love great food? and Windy City Pizza & BBQ was born! Having a newly remodeled dining area and patio, Bob and Trish Yeats thought it was time to give their website a makeover. So, they contacted Ken ODonnell of KO Websites to build the restaurant a new responsive WordPress website.
From the classic Chicago Deep Dish Pizza to the juicy, smoky, tender BBQ meats smoked in their custom-built Texas pit smoker, Windy City Pizza and BBQ dishes out some of the best eating in the San Francisco, Bay Area. Other menu items include Chicago specialty sandwiches and Vienna Beef Hot Dogs. To highlight the new look of the restaurant, as well as their special events, the newly launched website provides visitors easy access to explore menus, photos, stories, specials, testimonials and more. On the road in Burlingame or watching the game from home in Foster City and want to order a pizza and some ribs? No problem! Their new website makes it easy to peruse the menu on smartphones and click-to-call in an order for takeout or delivery. See their new website at http://www.WindyCityPizza.com
About Windy City Pizza and BBQ

Raised in the South, Bob (Bubba) Yeats is constantly improving what he learned quite some years ago in his Texas backyard with his two colorful Uncles, a barrel smoker, a load of chicken and ribs, and a basting mop. Authentic Texas BBQ combined with Chicago style deep dish pizza make Windy City Pizza and BBQ one of the best-loved restaurants in the Peninsula for locals and sports fans alike. Windy City Pizza is also home of the Bay Area Chicago Bears Fan Club (since 1998) and boasts several large flat-screen TVs for sports fans to watch their favorite teams.
About KO Websites

With over 14 years of web design experience, KO Websites has the knowledge and experience to build businesses a fresh, new website that works on any desktop or mobile device and ranks well on search engines too. KO Websites, through its sister brand SEOPRO.pro, offers full service SEO and Social Media marketing services at an affordable price. Contact the SEOPROs at KO websites for more information at http://www.KOwebsites.com – http://www.seopro.PRO or 1-866-797-KOKO.