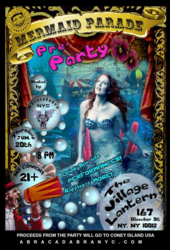 New York, NY (PRWEB) June 14, 2013
Abracadabra NYC is proud to host the official Mermaid Parade Pre-Party on Thursday, June 20 at The Village Lantern, located at 167 Bleecker Street. Proceeds will go to benefit the annual Mermaid Parade, a New York City tradition hosted each year by Coney Island USA. Doors open at 8 p.m.
Join Abracadabra NYC, along with sponsors, Original Sin Cider and Tish & Snooky's Manic Panic NYC, in this exciting night of summer festivities. There will be live performances, raffles, drink specials and oceans of fun to be had.
For 30 years, the Mermaid Parade has been a celebration of Coney Island and the creative individuals from all over the five boroughs. Abracadabra NYC is helping to save the Coney Island Mermaid from extinction. In the wake of Hurricane Sandy, the Mermaid Parade has faced some difficult challenges. Abracadabra NYC is partnering with Coney Island USA by helping them to weather the storm and raising funds with this Pre-Party, June 20. Both Abracadabra NYC and Coney Island USA want to ensure that this New York City institution can continue strong for the 750,000 New Yorkers who participate in and attend the Annual Mermaid Parade.
Abracadabra NYC is proud to help out with such a unifying event. They loaned a rental-quality mermaid costume to Amanda Palmer for the Coney Island Benefit Concert held at the Bowery Ballroom on Saturday, May 25. They worked with Lee Wong from Alt Variety Magazine to pick out the perfect costume for the headliner of that concert as well.
In addition to the Pre-Party hosted by Abracadabra NYC, parade attendees can also benefit with an in-store discount by simply saying I want to save a mermaid at the register to receive 15 percent off their purchase.
About the Company:

For over 25 years, Abracadabra NYC has been serving loyal customers becoming the premier source for all things related to costuming costume rentals, custom costume design, special effects/theatrical makeup and application, wigs, hats, shoes, novelties, masks, props, magic tricks and supplies, and hair goods. Abracadabra NYCs commitment to keeping up with the times and trends has always been its strongest asset and has been the source of its growth and expansion. Abracadabra NYC offers a wide selection of rental and purchase costumes and props, a make-up section to rival the big names, and a magic shop with an on-site experienced magician. Abracadabra NYC has worked with clients ranging from Viacom (MTV, VH1, Comedy Central, Spike TV), ABC (Good Morning America, The Chew), NBC (Saturday Night Live, Celebrity Apprentice, Jimmy Fallon), and College Humor to name a few. Abracadabra NYC is a household name in New York City and the Tri-State area. They are well known for the quality of their costumes and the variety of their inventory. At Abracadabra NYC, they offer the largest selection of novelty items for every holiday, masquerade, crawl and luau. Visit Abracadabra NYC at 19 West 21st Street, NYC 10010 or visit them on the web at http://www.abracadabranyc.com.