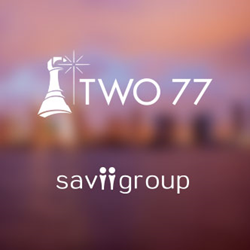 San Diego, CA (PRWEB) February 24, 2015
Two 77 announced today that it has been selected by San Diego based Savii Group, a market leading spend management provider specializing in buy-side intelligence, to support strategic branding initiatives for the launch of their new PinPoint Find It, Share It program.
The PinPoint program is the first and only of its kind to couple spend management expertise Find It – that allows companies to operate more efficiently and increase profits, with a conscious capitalism feature Share It – that contributes a portion of the findings for social good.
Being brought to market through a variety of high profile awards ceremonies, events, and advertising initiatives by Savii Group, PinPoint aims to strengthen its footprint locally and across the US with mid market corporations interested in saving money and adding cause conscious equity to their brand. PinPoint Find It, Share It is a sophisticated spend management program designed by extremely talented people and we are honored to have earned their trust for this important project, said Maddox Vic Sripetch, founder and CEO of Two 77. Our job is to deliver premium grade assets to help PinPoint and Savii achieve the awareness and acclaim they already deserve, he concluded.
As a strategic marketing partner, Two 77 has been tapped to assist in the development of messaging, content marketing, social media marketing, and event support to raise awareness and drive revenue growth for Savii Group. "Two 77 was the perfect fit for us to use to launch our PinPoint program. They intimately know the needs of our target market who are business owners, CEO's and the C-suite, and brought great insight on positioning our goals and objectives to align with a company's needs to increase profits and increase their corporate value, noted Savii Groups founder and CEO, Gina Manis-Anderson.
About Two 77

Two 77 is an innovative financial communications & marketing agency located in downtown San Diego, California. We specialize in delivering strategic communications and engagement through premium-quality investor relations, publicity, marketing & branding support, and high profile events for early to mid stage companies looking to increase awareness and grow their businesses. For more information on Two 77: http://www.productiontwo77.com
About Savii Group

Savii Group is a team of Spend Management experts founded and led by Gina Manis-Anderson. Our no risk model of being compensated only when and if we find expense savings combined with our deep expertise in expense management across all major verticals makes us market leaders for mid market and large enterprise clients looking to improve efficiency and increase the bottom line.
About Pinpoint

Conceived by two pioneering spend management experts, Gina Manis Anderson (Savii Group), and Mark Neilson (Accretive), PinPoint is the first and only program designed to FIND excess capital through a no risk spend management engagement and then SHARE a portion of resultant savings with a non-profit of our clients choosing.

For more information on Savii Group or PinPoint visit: http://saviigroup.com/