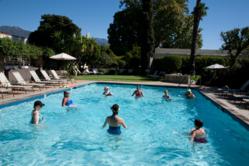 Ojai, Calif. (PRWEB) August 06, 2012
Missy Franklin has taken home the Gold in London, and while we may not all have her need for speed, one thing is clear: making waves in the water is a great workout no matter the age or physical condition.
The Oaks at Ojai, a destination spa in Ojai, Calif., offers two to three water workout classes daily, but during Water Week, October 6 14, 2012, additional classes will be added each day. The best part? There is no additional charge for guests who participate; it is all part of The Oaks value-added theme week program, which focuses on various fitness activities or popular topics throughout the year.
Nancy Byrd Radding, fitness director of The Oaks at Ojai, says, Water workouts are great because the weightless environment makes the moves accessible to all levels. The de-conditioned can modify more easily than on land while the conditioned can beef it up and get a killer workout. The water is also gentle on joints making it an incredible environment for rehabbing injured areas. For actual lap swimmers, swimming a variety of strokes at a cardio pace rolls cardio/tone/lengthening into one great workout.
The Oaks pool is specially designed for water workouts and offers two to three classes per day, including those that improve cardio capacity and strength in the Aqua Tone and Aqua Cardio classes. The water is perfect for those with challenging hips, knees, or lower backs and great for balance, strength, and abs too.
During Water Week, some of the additional classes offered include:


Aqua yoga: Yoga postures adapted to the water
Aqua Ai Chi: Ai Chi is a gentle off shoot of Tai Chi- adapted to the water
Aqua Night Stretch: No sunscreen required for easy night moves in the pool
Aqua Boot Camp: a special hard core cardio/tone combo
And throughout the week, The Oaks bevy of aqua instructors will offer tips for continuing the water workouts at home or on the road. Here are a few from Radding:
Walk in chest level water, wide strides, as quickly as possible, moving arms vigorously under water
Get in the deep water and tread! Use a noodle, kick board, or buoyancy belt if necessary.
Put your hands on the side of the pool in belly deep water and push up OUT of the water as high as you can!
Use a kickboard or noodle and do alternating kick laps for your legs- flutter kick, breaststroke frog legs, and sidestroke scissor legs.
Strengthen your arms with just the resistance of the water or an added empty water jug (capped to fill with air) and underwater do a series of bicep curls, rows, lateral raises, and triceps kickbacks.
About The Oaks at Ojai

The Oaks at Ojai is an affordable fitness destination spa that includes overnight accommodations, three delicious and calorie-conscious meals a day designed to promote weight loss, choice of 15 fitness classes per day and evening entertainment and seminars. The Oaks offers 46 guest rooms, including private rooms and courtyard suites, double lodge rooms and double cottage rooms. A charming 1920s hotel-turned-spa in the peaceful town of Ojai, The Oaks offers a variety of activities that allows guests to choose how to work out and take off excess pounds.
Activities range from hiking, art tours, and in-line skating to rock climbing, guided kayaking tours, belly dancing, yoga ropes, and qi gong, in addition to other fitness classes. A full menu of relaxing and therapeutic spa services is available as well as private consultations with a variety of health experts. The Oaks at Ojai is located at 122 East Ojai Avenue (Ojais main street). For more information, please visit http://www.oaksspa.com or become a fan on Facebook, Twitter and Pinterest.