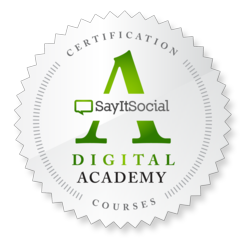 Wilmington, NC (PRWEB) May 01, 2013
SayItSocial, a digital business training and strategy agency, announces the launch of SayItSocial Digital Academy. The new Academy offers a host of on-site and virtual certification courses related to social business. Some titles include Social Media Strategist Program, Social Media Crisis Management, and Executive Social Organization Primer.
The SayItSocial Digital Academy is truly unique to fit the demands of an industry currently lacking proof of credentials. There is no question that with the growing need for professionals to possess social competency in an organization, social media certification is becoming no longer a preference, but a necessity, says Ty Downing, CEO and founder of SayItSocial.
Courses are taught by SayItSocials talented trainers, who share a combined 50 years of experience in the social business industry. All courses are consistently updated using the latest research from industry leaders such as Altimeter Group, Forrester Research and SayItSocials proprietary data. Courses are available to a limited number of students both virtually and on-site in San Francisco, CA; Grand Rapids, MI; New York, NY; and Wilmington, NC (headquarters).
Certification courses range from eight to twelve hours in length and are available on specified dates. On-site training can be completed in one to two business days, while online courses span four to six weeks, allowing for ease of a busy professional schedule. The first available course will be Social Media Strategist Program, taking place on-site in Grand Rapids, MI from July 10th through July 11th, 2013 and virtually starting August 8th, 2013.
The ideal audience for the courses includes, but is not limited to, Advertising and PR agencies, Senior Business Leaders, Crisis Management Professionals, Community Managers, as well as Marketing, Communications, HR, and Customer Service representatives.
SayItSocial has become leaders of the social media training industry through their ability to create cutting-edge courses that result in measurable success. Past and present clients include Dupont, Redbox, Springer, Anheuser Busch, and most recently, ARAMARK.
SayItSocial has existed as an organization in the digital marketing industry since its launch in 2004 because the company has stayed on a communal path with the direction of the industry, remaining constantly ahead of digital and social marketing trends.
You can learn more about the Digital Academy and SayItSocials other services on their recently re-designed website, SayItSocial.com, designed by Graphic Moxie, a notable design agency specializing in innovative branding design elements.