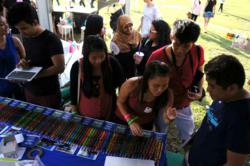 Petaling Jaya (PRWEB) December 18, 2012
The all-new SAYS.com http://www.says.com, Malaysias Social News Network was officially introduced to the public at the recent Urbanscapes at Padang Astaka, last month. This platform of community-produced news is an online one-stop news resource for a new generation of multi-source news readers.
According to Khailee Ng, CEO of SAYS.com, after 2 years of developing a 400,000-strong community of youths online, one of the strongest behavioural patterns observed is that young people want to follow news that is trending, news that their friends are reading, what their friends share with them. They do not like being bombarded with all types of news and updates they do not deem as relevant to their lives.
We started thinking, how do we satisfy this young generation whilst still encouraging them to follow news? Our solution – create a platform where people can share their news and follow the topics, issues or subjects instead of following the source, said Khailee.
Malaysias Social News Network by SAYS enables users to curate (create a topic) or share news, pictures and videos on an existing topic, allows users to follow the topic of their interest instead of following a source, gives readers a compilation on a certain topic from all perspectives and allows users to receive updates on the followed topic as and when new users share new information on the topic.
Since the beta launch of SAYS Malaysias Social News Network in February 2012 (better known as News Remix then), more than 18,000 news articles, blogposts, pictures and videos have been contributed and shared by Malaysians. Over 85,000 Malaysian social media users joint-curated trending local headlines on politics, people, technology, and entertainment into these news remixes, gathering over 2.25 million views and counting!
The two-day launch was received widely by youths who attended Urbanscapes and drew over 500 new signups adding to the 400,000-strong online youth community.
The Urbanscapes 2012 News Remix alone has garnered over 94,877 hits, simply by Malaysians sharing their experience on Instagram, Facebook and Twitter. The trending story can be found at bit.ly/SAYS2012.
"I signed up to SAYS.com immediately after the short explanation from SAYS.com team. To me, SAYS.com is a one-stop centre, good platform and source to follow trending news and as an environmental researcher, I would definitely use it for my work" said Evelyn Teh, 28 from Puchong,
Devyani Grupta, 17 from India said, "It's revolutionary! I have never seen a platform that allows users to curate, contribute and follow the development of a news based on our own interest. I usually read the newspapers for news and now I have an additional source – SAYS.com. Ultimately, it's a fun and cool platform."
Kay Lynn Chua, 17 from Kuala Lumpur accorded with Devyani and further added, "To me, it's a NEW GOOGLE!"
We want to promote the culture of reading and creating news. We aim to make news interesting that will otherwise seem dry for the Gen Y. This, is the beginning on our journey – and we hope this will drive more of our generation to read the news, said Khailee Ng.
SAYS is currently expanding and is building its community management team and have recruited staff in India and Singapore. Next year, the local social media start-up will be launching the Social News Network in Indonesia and Philippines. SAYS envisions to create the world's most active social media communities to have a news site the youths can call their own.
About SAYS.com

SAYS.com is a media company consisting of over 400,000 Malaysians who help over 70 leading advertisers to engage Malaysia's Facebook and Twitter generation. The business is built on the belief that the new generation of consumers are primarily influenced by what people share with their friends across social media. Clients across all industries like Nike, Coke, Nestle, Unilever, Maybank, and more have run multiple successful, and many award winning campaigns with the influence of SAYS.coms community. SAYS.com was founded by young Malaysians, Khailee Ng and Joel Neoh, in 2010, and currently operates out of an MSC status building in Petaling Jaya. Learn more about SAYS.com at http://says.com/my.