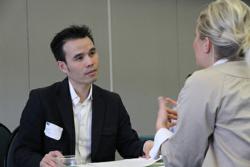 Scottsdale, AZ (PRWEB) April 21, 2013
Improvements in the U.S. job market are energizing human resources departments as they actively recruit and hire new staff.
According to the Federal Reserves Federal Open Market Committee, U.S. job growth in 2013 and 2014 is expected at a faster clip than in previous forecasts. To effectively handle this increase in hiring, human resources departments are turning to Software-as-a-Service (SaaS) programs such as online scheduling software instead of traditional applications.
The Gartner Group estimates that SaaS for enterprise software will grow 17.7 percent annually through the end of the year.
Paul Hamerman, vice president and principal analyst at Forrester Research Inc., stated: "SaaS adoption is already at very high levels, and more companies choose SaaS first.
"Basically, it becomes a prerequisite for any kind of solution they look at in HR."
Known as on-demand software, these programs utilize a delivery model in which the application is hosted on the cloud. Theyre accessible in the same way as e-mail, Facebook and Amazon from laptops, smartphones and tablets.
Here are five reasons SaaS helps recruit more employees:
1.