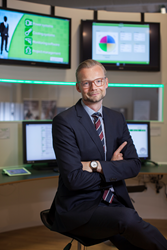 London, United Kingdom (PRWEB UK) 10 December 2014
Schneider Electric, a global specialist in energy management, today announced the integration of its data centre infrastructure management (DCIM) solution, StruxureWare for Data Centers, with the HP OneView infrastructure management platform. This certified integration provides converged IT and facilities management personnel with visibility into an organisations server, storage and networking systems for service management.
Building upon StruxureWares existing integration with HPs Universal Configuration Management Database (uCMDB), this integration provides simultaneous visibility into asset data for both IT and facilities managers, enabling a key next step in automated service deliveries and data centre service optimisation, said Soeren Jensen, Vice President, Software and Managed Services, Schneider Electric. Were proud to be the first to integrate our StruxureWare for Data Centers DCIM solution with the HP OneView platform and continue on the path towards holistic management of IT and facilities.
The integration between StruxureWare for Data Centers and HP OneView enables bidirectional, live communications between the two platforms to eliminate operational silos between IT and facilities. Data centre and facilities owners and operators gain visibility into server, storage and network management, as well as service creation, providing a holistic view of and control over IT service delivery and infrastructure capacity management. Additionally, with the ability to share data between platforms, time is saved, OPEX reduced and the likelihood of human error is drastically minimised.
With this integration, enterprise data centres and colocation providers will not only benefit from the holistic management of both IT services and physical infrastructure within the data centre, but can now create services with complete visibility of dependencies on physical infrastructure. Data centres can also determine the true cost of ownership for services by being able to associate workloads to watts. These features enable enhanced time to market for service delivery, as well as increased uptime and reliability.
IT and facilities partnerships are the core of converged management, said Rick Einhorn, VP of Data Centre Consulting, HP. We are excited about the momentum generated through Schneider Electrics collaboration with HP ConvergedSystems and HP Software. Its an important element for businesses looking to benefit from the New Style of IT across the data centre and facilities lifecycle.
Schneider Electric also announced today that HP has joined its EcoStruxure Technology Partner Program. Developed by Schneider Electric, this initiative reflects a joint commitment to HP customers who will benefit from collaborative solutions that provide maximum interoperability and efficiency, accelerated deployment and reduced integration costs.
Todays news builds upon the integration of StruxureWare for Data Centers with HPs Universal Configuration Management Database (uCMDB), announced earlier this year. Schneider Electrics end-to-end DCIM software suite enables converged management with the ability to monitor, operate, analyze and optimise data centre power, cooling, security and energy. Tested for interoperability, the integration with HP OneView is part of StruxureWare for Data Centers and is available immediately.
About Schneider Electric
As a global specialist in energy management with operations in more than 100 countries, Schneider Electric offers integrated solutions across multiple market segments, including leadership positions in Utilities & Infrastructure, Industries & Machines Manufacturers, Non-residential Building, Data Centres & Networks and in Residential. Focused on making energy safe, reliable, efficient, productive and green, the Groups 150,000 plus employees achieved sales of 24 billion euros in 2013, through an active commitment to help individuals and organizations make the most of their energy.
http://www.schneider-electric.com