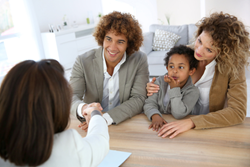 Rockville, MD (PRWEB) May 08, 2014
While experts are predicting continuing improvement in the U.S. housing market following last years recovery, inventory is only slowly improving. Demand remains high, particularly in the D.C. metro area, making it one of the most competitive markets in the country. With homes being snapped up quickly, many after heated bidding wars, buyers looking to purchase their dream home are advised to get a competitive edge, even before they start looking.
With several of its loan officers recently ranked among the top in the country, Capital Bank helps its customers get the edge they need with a thorough prequalification process. Getting to a closing quickly starts with being prepared up front, says Capital Bank CFO, Filip Feller. Being prequalified absolutely gives a buyer an advantage, especially when theres so much demand. Thanks to the thoroughness of our process here at Capital Bank, we can say weve got the best loan officers in the business.
Two of the banks loan officers, Brian Blonder, and Brad Cohen have consistently been in the Nations top 25 Loan Officers for three years. Delivery on clients needs and ability to meet the desired closing date makes them the best. Most recently, Scotsman Guide, the leading resource for mortgage originators, ranked Brian Blonder 9th and Brad Cohen 25th in the country for overall dollar volume, with Blonder ranked 12th in the country for the most loans closed in 2013.
Now more than ever home buyers need all the expert help they can get to make sure they get the winning bid and the home of their dreams, says Feller. Here at Capital Bank we take great pride in saying that nobody does it better than our loan officers. Just ask the experts.
About Capital Bank

Capital Bank, N.A. is a full service commercial bank in the Washington, D.C. metropolitan area. A top-ranked bank based on performance, it is the only bank in Maryland and Washington, D.C. to make the American Bankers Association Journal (ABA Journal) list of top 100 performing community banks in the class of over $ 100 Million in Assets. With nearly $ 500 Million in assets, Capital Bank offers a full range of banking services including cash management, commercial lending services, residential mortgage and consumer credit. For more information about the Bank, visit http://www.capitalbankmd.com. Member FDIC. An Equal Housing Lender.