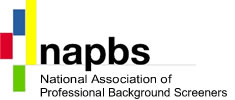 Boston, MA (PRWEB) December 28, 2012
Screening Intelligence, a leading company in the background screening industry, has recently joined the National Association of Professional Background Screeners (NAPBS). Screening Intelligence is now a regular member in good standing, and has the opportunity to vote on important industry issues.
The NAPBS is an organization consisting of more than 300 members. These members are all affiliated with the employment screening industry either in a direct way or in an indirect way. Regular members, which include Screening Intelligence, are all companies which provide background screening services to their customers. These members have voting rights within the NAPBS. Other members include affiliate members and associate members. These members are either support companies, such as legal firms, consulting firms and insurance agencies or public records companies and data providers. Together, members work to educate one another as well as advocate industry needs to local, state and national lawmakers.
As a member of the NAPBS, Screening Intelligence will be able to provide its customers and clients with the best new information and technological advances in the industry. Each year, there is an annual conference with training opportunities for NAPBS members and there is also a mid-year meeting. While these are important educational opportunities, the NAPBS feels it is important to continue to educate on a regular basis. With this in mind, the organization provides monthly webinars to its members free of charge. These webinars cover a variety of topics, such as employment screening, tenant screening, and drug screening.
Legislative monitoring is another important role of the NAPBS, and Screening Intelligence clients benefit greatly from this service. A federal lobbyist in Washington D.C. keeps members posted of the latest happenings with laws and regulations that affect the background screening industry. There are also grass-roots groups that work with local and state lawmakers about issues related to employment screening. As an informed member of good standing, Screening Intelligence is able to relay this information to its customers and clients.
Screening Intelligence is committed to becoming an involved member in the NAPBS, as the company believes this is the best way to improve as a company and to provide better services to its clients. With access to the latest technological developments, Screening Intelligence will be able to improve its customer service, its response time and its overall accuracy when it comes to background screening results. The NAPBS is the most elite employment screening organization, and Screening Intelligence is honored to be one of its regular voting members. The company is committed to getting involved and relaying all relevant information to its clients, customers and employees. For more information on Screening Intelligence's recent membership with the NAPBS, visit the website today.
About Screening Intelligence

ScreeningIntelligence.com provides accurate and affordable background check solutions to help employers make informed pre-employment screening decisions. County criminal data is retrieved from thousands of local and county courts in all 50 U.S. States. Pre-employment screening and tenant screening services include: comprehensive criminal background checks, federal background checks, county background checks, sex offender registry search, instant national eviction checks, and social security traces.