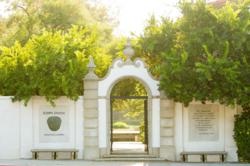 Claremont, CA (PRWEB) April 12, 2013
As metropolitan areas grow, preserving spaces for community gardens becomes ever more challenging. As cities construct more freeways and homes, small unused patches of land become ubiquitous and remain as the only viable spots for open public spaces. Award-winning urban designer, Sarah Moos 09 speaks on Reclaiming Remnant Urban Spaces at noon, April 17 in the Hampton Room of the Malott Commons, 345 E. 9th St. The free lecture is open to the public.
Moos currently works as a design contractor at Bionic, a landscape architecture and planning firm in San Francisco. The firm manages projects of all scales and emphasizes inventive solutions that strategically combine landscape, infrastructure, technology, architecture, transportation, ecology, politics, economics and social needs.
Receiving a bachelors degree with honors in studio art and environmental analysis from Scripps College, Moos is a graduate student at the University of California, Berkeley completing a dual masters degree in landscape architecture and city and regional planning, with an emphasis in urban design. In her masters thesis, she proposes solutions intent on transforming derelict sites into vital public open spaces that would improve the quality of life of a southeastern neighborhood in San Francisco.