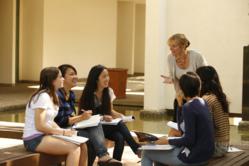 Claremont, CA (PRWEB) December 10, 2012
President Lori Bettison-Varga today announced a $ 2 million gift to Scripps College to establish The Elizabeth Hubert Malott Endowed Chair for the Core Curriculum in Interdisciplinary Humanities.
The Malott Family Foundation awarded the significant gift to the College in recognition of Elizabeth Hubert Malotts love of Corethe Colleges signature academic program. The Core program emphasizes interdisciplinary breadth, inquiry, student-faculty interaction, and links to issues of the day, producing students with intellectual agility. The scholarly debate and research skills that are fundamental to the Core program empower Scripps students to tolerate ambiguity in dealing with pressing questions.
The benefits of the Core curriculum experience come at a time when industry needs are rapidly changing, said Liza Malott Pohle, Scripps College trustee and board member of The Malott Family Foundation. Now we see the technology sector clamoring to hire individuals with a vivid imagination to market constant innovation. The Foundation board took to heart the words of Steve Jobs: Its in Apples DNA that technology alone is not enough its technology married with the liberal arts, married with the humanities, that yields us the result that makes our heart sing.
Elizabeth Hubert Malott, who passed away in 2003, was a graduate of Scripps College in 1953 and a longtime trustee of the College. Elizabeth Hubert Malott was a global citizen and a woman of insatiable curiosity who loved the world of ideas and sought opportunities to open that world to others, said Bettison-Varga. The Malott Family Foundation gift ensures the promise of a profound impact that the Core program will continue to have on alumnae long after they leave the College. This gift is a meaningful tribute to her life.
The Elizabeth Hubert Malott Endowed Chair for the Core Curriculum in Interdisciplinary Humanities will honor the legacy of the valuable service and dedication given to Scripps by my mother as a trustee and an alumna, said Pohle.
The $ 2 million gift was announced at the December 8, 2012, meeting of the Scripps College Board of Trustees.
# # #
Scripps College was founded in 1926 by Ellen Browning Scripps, a pioneering philanthropist and influential figure in the worlds of education, publishing, and womens rights. Today, Scripps is a nationally top-ranked liberal arts college and womens college with approximately 950 students, and is a member of The Claremont Colleges in Southern California. The mission of Scripps College is to educate women to develop their intellects and talents through active participation in a community of scholars, so that as graduates they may contribute to society through public and private lives of leadership, service, integrity, and creativity.