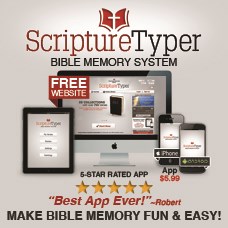 Birmingham, AL (PRWEB) December 31, 2013
Memorizing Scripture is a popular New Years resolution for many Christians. But this year, it will be easier to memorize than ever before. Millennial Apps, LLC, the developer of a leading Bible memory website, ScriptureTyper.com, just released the Android version of its iOS app, the top-ranked Bible memory app on the Apple app store. Both the iOS and Android apps have 5-star ratings.
Scripture Typers complete Bible memory system allows users to memorize Scripture anytime, anywhere, both online at ScriptureTyper.com and on its mobile apps. Progress syncs between the website ScriptureTyper.com and all supported mobile devices for ultimate user flexibility.
Scripture Typer frequently receives e-mails, many from individuals who have failed at Bible memory in the past, saying they are excited by their new-found success at memorizing with the Scripture Typer Bible memory system.
One user said, I always used to have a hard time memorizing but with Scripture Typer's review program I am over 150 verses and my goal by end of 2013 is to be over 300! Today, nearly one million Bible verses have been memorized with Scripture Typer since it was launched in 2010.
The National Bible Bee, New-York Times bestselling author Ann Voskamp, and churches across the country use ScriptureTyper.com to create free Bible memory groups on the website.
Everett Chew, 2013 National Bible Bee third place winner in the Junior division, used Scripture Typer to prepare for the competition, The Scripture Typer app is by far the easiest way for me to memorize on the go. I love how I was able to review and memorize verses at any time I wanted. It is very well built, easy to use, and is extremely effective.
About Scripture Typer
Scripture Typer accelerates memorization by utilizing both visual and kinesthetic, or touch memory. Kinesthetic memory makes memorization faster, increases retention, and enhances memorization capacity. Once memorized, Scripture Typers smart review system reminds users to review verses on a schedule, ensuring verses are retained.
Scripture Typer enables users to import verses from any of the top 10 translations automatically or enter verses from any translation manually. Users can also create and name their own verse collections, as well as choose verses from over 55 existing collections on a variety of topics. The apps also provide additional tools, including flash cards, the ability to draw illustrations to represent verses, and an audio feature to record verses and play them back.
Learn more by visiting the ScriptureTyper.com website.