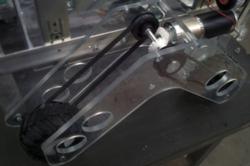 New Hyde Park, NY (PRWEB) April 18, 2013
Stock Drive Products / Sterling Instrument – SDP/SI announces the donation of components for NASA Lunar Lander Challenge 2013 to Team SpacePRIDE, enabling the team to better compete and to further technology used for robotics and automation with possible applications in space. Their space rovers will traverse up to 80,000 sq. meters, avoid obstacles, navigate, and locate different samples autonomously. The rovers' drive train consists two wheel pods, each having 2 sets of XL pulleys and belts which are powered by a 100W DC gear motor. The motor drives a 90 degree miter gear arrangement which allows the motor to sit inside each wheel pod. The belt drive expansion allows more reduction capability and shock absorption."
Positive Impact

Members of Team SpacePRIDE will compete in June at Worcester Polytechnic Institute. Details of the competition can be found at http://www.spacepride.com. With the donation from SDP/SI, SpacePRIDE was able to complete the construction of its "swarm" of robots for the competition. With less time having to be spent fundraising for these parts, SpacePRIDE has been able to dedicate more time to robotics education in a local maker space and in local public schools.
About SDP/SI

SDP/SI is a leading manufacturer of small mechanical components, servicing a wide variety of aerospace, medical and commercial industries for over 50 years. Quotes, online orders, and 3D CAD Models are available at our updated eStore at: http://www.sdp-si.com/eStore.
SDP/SI offers over 130,000 power transmission components including: gears, belt and chain drives, shafts, shaft accessories, bearings, couplings, universal joints, vibration mounts, miscellaneous components, hardware, gearheads and speed reducers, right angle drives, brakes and clutches, motors and gearmotors.
SDP/SI

2101 Jericho Turnpike, P.O. Box 5416

New Hyde Park, NY 11042-5416.

Phone: 516-328-3300 Fax: 516-326-8827

http://www.sdp-si.com.


30 –
An electronic version of this release including a 300 DPI hi-resolution JPEG image can be

downloaded at http://sdp-si.com/web/html/newprd/nasa-lunar-contest.htm