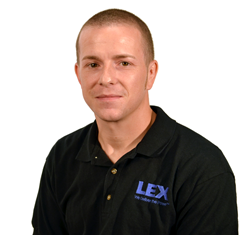 (PRWEB) August 25, 2014
Lex Products is pleased to announce that Sean Sloat will be joining the Northeast territory team as the Inside Sales Representative, effective August 25th. Sean has been with Lex Products for six years and worked to optimize workflow and internal customer service processes in several areas of the company.
Mark Gold, Director of Inside Sales and Marketing Operations, said, Sean brings a unique perspective to his new position at Lex. With his engineering background, he delivers the technical product knowledge needed to find solutions to unique situations while also demonstrating the outstanding customer service that our customers have come to expect. I look forward to Sean moving our sales team forward and representing the northeast territory."
Sean joined Lex Products as an Electrical Engineer in August 2008 after graduating from the University of Rhode Island with a bachelors degree in electrical engineering. Sean started with Lex Products by working on non-standard configurations where he worked on quotes and sales orders in support of the sales team. He was then promoted to the positions of Lead Electrical Engineer of Technical Support followed by Applications Engineering Supervisor where he oversaw the development of configurable and customized solutions for customer-specific applications.
During his tenure with Lex, Sean additionally designed and implemented the Fast Track tool, which enabled the company to better allocate engineering resources among new business opportunities for non-standard configurable products.
Sean can be reached at (203) 274-9934 or by email at ssloat(at)lexproducts(dotcom.
About Lex Products:

Lex Products Corporation is a leading manufacturer of innovative power distribution and control systems for demanding markets, including entertainment, industrial and the military. Founded in 1989, the company specializes in portable power systems including distribution boxes, cable assemblies, cable protectors and other products, designed to withstand rough use and harsh environments. Lex Products is ISO 9001:2008 & AS9100C certified for all production, operations and support services across its three U.S. facilities.
Headquartered in Shelton, Connecticut, the company also has offices in Sun Valley, California and the United Kingdom. In 2012, Lex Products ranked 77th in the Manufacturing segment on Inc. Magazines Inc. 5000.