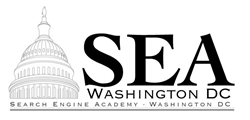 Washington, DC (PRWEB) March 11, 2014
Search Engine Academy Washington DC (SEA DC) will be at Cove, a community co-working space to offer SEO help for two hours on 3/12/2014 from 10 AM – 1 PM Eastern Time at the Cove Dupont Circle location.
"I discovered Cove last fall one day when I was on break from teaching SEO. There were Cove employees handing out postcards near the Farragut North Metro Station, offering temporary working space with wi-fi and a conference room. Now, my single biggest expense is renting conference rooms to train my students in SEO, and the postcard had an incredible deal with a very cost-effective monthly rate," said Nancy Wigal, the owner and operator of SEA DC.
"A couple weeks later, I went to the Cove location after talking to the folks, to do a recon, to see if it would work for my classes. I liked what I saw, so I signed up for a monthly membership. I taught a class last December, and it went really well," according to Nancy.
"Cove sends out nice little email newsletters, and I noticed they had scheduled a session for a social media expert to sit at the community space for three hours and answer questions – kind of a 'ask me anything!' I approached the guys who run Cove, asking if there might be any interest in me coming onsite one month and offering SEO help for any Cove participants. They were all over that, so we set a date in March!"
Nancy said the reason why she's doing this is to give something back to the business community by offering website optimization tips and information, as well as to get some visibility for SEA DC. "If folks need website help, I hope they'll remember me and give me a call or an email to see if I can assist them with website issues around online visibility," Nancy remarked.
Nancy will be onsite at the Dupont Circle location for three hours. She will be available to answer questions and offer SEO strategy and techniques to help out fellow Cove participants on specific topics, such as keyword research, blogging, video, link building and Google guidelines and recommendations.
Nancy said "I find that a lot of folks are very confused about what Google is looking for in rewarding web pages with higher visibility in search results, so I expect I'll get a lot of questions about how Google decides which pages should be featured up high in search results."
About Search Engine Academy Washington DC: Part of Search Engine Academy, SEA DC offers search engine optimization training with two, three and five day SEO classes in the Washington DC metropolitan area. Custom SEO courses are available on demand. SEA DC also provides enterprise SEO program development and implementation for any business with a website that is not converting prospects into clients.
About Cove: Cove is an alternative to working from home or coffee shops by offering open work spaces with wi-fi, conference room and printing capabilities in Washington DC. Participants choose from monthly plans, reserve space, and come in to get work done.