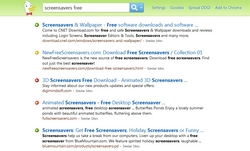 Valley Forge, PA (PRWEB) December 4, 2010
By turning on a simple setting on DuckDuckGo's Result Settings page, searchers can see the crowd-sourced ratings aggregated by website reputation rating system Web of Trust (WOT.) The traffic light style WOT reputation ratings appear next to links, so users will be able to see immediately which sites are good, which are questionable and which to steer clear of.
"DuckDuckGo has been the leader in removing spam, protecting privacy, and using crowd-sourced information to improve results. With the addition of WOT's crowd-sourced ratings, DuckDuckGo plus WOT is the perfect solution to search with peace of mind," said CEO and DuckDuckGo founder Gabriel Weinberg.
"The WOT community is better at detecting scam sites than automated systems alone. It requires input from real consumers to identify bad customer service," said Vesa Per