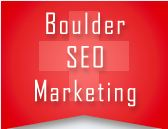 Superior, Colorado (PRWEB) August 30, 2014
Boulder SEO Marketing, a Colorado-based digital marketing agency offering SEO training and consulting service to companies worldwide, announced today that it has published its fall 2014 training schedule. Additional information and registration for its online marketing classes are available at http://www.boulderseomarketing.com/seo-and-social-media-classes.
Boulder SEO Marketings search engine optimization and online marketing training classes and workshops are designed to help attendees gain an advantage over their competition, allowing them to get more leads from their website, create brand awareness, and ultimately achieve more sales.
Chris Raulf, founder and SEO training expert at Boulder SEO Marketings, notes, Most prospective customers and students I talk to simply struggle with implementing a winning online marketing strategy that will improve keyword rankings and overall organic search traffic from Google and other search engines to their website. He continues: We are very excited to have teamed up with the Boulder Marketing Group, BVSD Lifelong Learning, and Carbon8 to offer a variety of hands-on digital marketing classes and workshops this fall in Boulder and Denver.
The following events have currently been schedule and additional classes and workshops will be added later on this year:


September 25, 2014 from noon – 2:00 pm: Boulder Marketing Group Brown Bag Meeting – Boost Your Websites Visibility and Increase Traffic Without Buying Paid Ads
September 30, 2014 from 6:30 pm – 8:30 pm: Introduction to Google Analytics (hosted by BVSD Lifelong Learning)
October 1, 2014 from 6:30 pm – 8:30 pm: Getting Started with Google Webmaster Tools (hosted by BVSD Lifelong Learning)
October 7 & 14, 2014 from 6:00 pm – 9:00 pm: Search Engine Optimization and Digital Marketing for Small Businesses (hosted by BVSD Lifelong Learning)
October 9, 2014 from 1:00 pm – 4:30 pm: Search Engine Optimization 201 Workshop Power Boost Your Visibility on Google
Targeting business owners and marketing professionals in charge of online marketing efforts, web designers eager to deepen their SEO knowledge, marketing consultants, and anyone wanting to refresh their online marketing, SEO, social media and content marketing knowledge. Participants will learn the strategies and tactics needed in order to practice digital marketing like an SEO agency.
About Boulder SEO Marketing (http://www.boulderseomarketing.com)

Boulder SEO Marketing assists businesses around the globe with all of their search engine optimization (SEO), search engine marketing (SEM), social media and content marketing training and consulting needs. Our goal is to empower small and medium sized businesses to be able to plan and execute a scaled, successful, online marketing campaign that will increase a companys visibility in search engine listings, increase organic search traffic to a website and convert site visitors to leads.