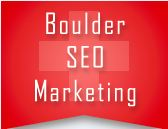 Superior, CO (PRWEB) December 30, 2014
Boulder SEO Marketing, a digital marketing agency providing SEO site audits, search engine optimization, social media and content marketing solutions to companies worldwide, announced today that it has seen a steady growth for its core services in 2014.
Jen Battista, Director, Strategic Accounts at Boulder SEO Marketing said, 2014 was an exciting year for our SEO agency. With the improving economy we also saw strong demand across the board for our digital marketing services and in particular for our SEO audits. She adds: The entire team often operated at capacity and put in long hours to deliver projects on time; Im very proud of our accomplishments this year.
The company also announces that Chris Raulf, the agencys Founder & President, has been a sought after speaker at industry conferences and digital marketing training events in 2014. Raulf presented two full-day SEO training workshops in Boulder and Denver, Colorado, teamed up with digital marketing agency Carbon8 to host several half-day SEO 201 trainings, taught digital marketing for BVSD Lifelong Learning, and he also led the SEO tracks at Integrate Social 2014 The 2-Day Digital Marketing and Social Selling Program in December.
Teaching online marketing has always been a passion of mine and I look forward to continue speaking and presenting at conferences in 2015, notes agency owner Chris Raulf. He concludes, Im in particular excited to present more online SEO trainings such as the February 26, 3-hour Search Engine Optimization 201 Online Workshop Power Boost Your Visibility on Google Web Seminar.
Additional information about upcoming learning opportunities, may be obtained by visiting http://www.boulderseomarketing.com/seo-and-social-media-classes.
About Boulder SEO Marketing (http://www.boulderseomarketing.com)

Boulder SEO Marketing, assists businesses worldwide with all of their search engine optimization, (SEO), search engine marketing (SEM), social media, content marketing and SEO training and website audit needs. Our team of experts help small and medium sized businesses to be able to plan and execute a scaled, successful internet marketing campaign that will improve a companys visibility in search engine listings and help increase traffic from organic searches to their website. For additional information, please email us at info@boulderseomarketing.com.