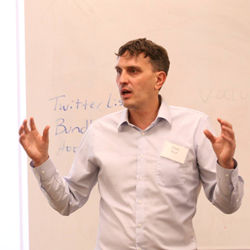 Boulder, Colorado (PRWEB) February 27, 2015
Chris Raulf, a Colorado-based SEO, social media, content and digital marketing expert, announced today his participation at the Integrated Marketing Summit in Phoenix and Dallas. Raulf will be hosting the half-day, hands-on, SEO workshops; additional information and registration are available at: http://www.integratedmarketingsummit.com.
The signature summit for business, marketing, sales and advertising professionals in both B2B and B2C markets throughout the United States, the Integrated Marketing Summit (IMS) provides actionable insights, expertise and cutting-edge information in a convenient, affordable one day educational format. In 2015, the IMS visits 9 cities and features some of the top marketing and sales presenters.
Websites, blogs, and social media platforms have replaced conventional sales brochures and it has never been easier to serve relevant content to our target audiences, notes Chris Raulf. He adds: The content presented in the hands-on search engine optimization workshop will enable participants to implement an SEO strategy that will drive qualified traffic to their website and increase sales.
The half-day SEO workshop targets business, marketing, communication, and online lead generation professionals, as well as business owners and consultants. Additional information may be obtained by visiting: http://www.integratedmarketingsummit.com/workshop/searchengineoptimization/
About Chris Raulf (http://www.chrisraulf.com)

Chris Raulf is an international digital marketing training and consulting expert and the founder of Boulder SEO Marketing, a boutique search engine optimization agency. Chris is a sought after speaker and the Online Marketing Institute added him to their Top 40+ Digital Strategists in Marketing for 2014 list. He has two decades of online marketing expertise under his belt and hes on a mission to help businesses implement digital marketing best practices.