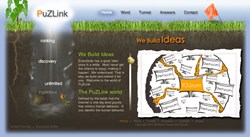 (PRWEB) December 30, 2013
Search Engine Tunnel | PuZLink.com
PuZLink.com, a company that builds ideas through a proprietary approach to communicating on the Internet, has introduced a system to help businesses that dont have an online presence create one and use it to further build their brand.
Using search engine tunneling (SET), PuZLink.com helps businesses prioritize their Internet activities to focus first on building their online brand reputation before establishing a full company website.
"Its really a matter of putting first things first," said David Capo, founder of PuZLink.com. "The Internet is a revolutionary and innovative world of communication, and innovative thinking is required to use it to its fullest potential as a business tool."
PuZLink.com created search engine tunneling to enable businesses to be introduced to consumers online through a process that establishes brands through the strategic use of creative content. Search engine tunneling takes the concept behind search engine optimization (SEO) and expands on it to help businesses establish an online presence that attracts consumers through a specific and directed search process.
Recognizing that many companies avoid doing business on the Internet because they dont know where to begin, PuZLink.com offers a proprietary system that is based on years of research and testing.
"Google and the other major search engines implement frequent updates that affect the way web pages turn up in search results," said Capo. "Online success for a business depends on understanding how the search engines operate and working within their guidelines to ensure that consumers can find them through legitimate searches."
PuZLink.com uses search engine tunneling to modify the traditional approach to developing an online businesstraditionally, building a complete website and then developing methods for publicizing itand going beyond that to establish an initial presence using innovative public relations methods.
"The Internet is basically a giant word puzzle, and the key to success online is the understanding of how words work on the Web," said Capo. "Companies without experience on the Internet can now harness the power of search engine tunneling to quickly and effectively master that key and compete in the global online marketplace."
Businesses interested in using search engine tunneling to develop an online presence are encouraged to visit PuZLink.com.
About PuZLink:
PuZLink LLC works with companies to succeed online by building ideas that will in turn build a business. The company welcomes inquiries from individuals or businesses interested in harnessing the potential of the Internet to build an online enterprise utilizing PuZLinks proprietary approach to search engine tunneling (SET). More information is available online at http://www.PuZLink.com.
Media Relations:

Tom Delamater

Delamater Media Group

(330) 437-5975