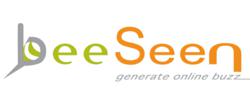 San Francisco, CA (PRWEB) November 02, 2012
BeeSeen is helping many e-commerce businesses thrive in this slow economy. The San Francisco based E-Marketing agency recently launched a new service to complement its current suite of consulting services. The brand new service is an E-Marketing Strategy Plan catered to businesses looking to gain new insights and tactics to enhance or improve their existing online marketing efforts. The plan is designed to help boost Search Engine Marketing (SEM) performance the most, by looking at all other online marketing efforts in a 360 degree holistic view. Ideally, the plan will be the answer for companies that have handled their search engine marketing in-house, or through other agencies or consultants, with minimal to poor results. BeeSeens E-Marketing Strategy Plan will include a full audit of the companys current online business and marketing results, the competition and its industry. It will also focus on what inbound marketing aspects are most qualitative and effective, such as which keywords will be the most critical in driving more sales, versus just general traffic to their websites.
BeeSeens current customers come from industries such as online retail, green construction and higher education. The core services offered to these clients are Search Engine Optimization (SEO) and Pay-per-Click (PPC) Advertising, the main components of Search Engine Marketing. BeeSeens clients have seen major improvements to their search traffic as well as more efficient spending of their overall marketing budgets.
A successful online retail client has enjoyed an impressive Return on Advertising Spend (ROAS) of up to 500% after contracting with BeeSeen to solely manage their PPC campaigns. PPC project highlights with this client include PPC campaign planning, creation, management, optimization and reporting. PPC strategies include ad optimization, post click optimization and A/B split testing. BeeSeen has also assisted in many areas that support SEM/PPC including website conversion recommendations, email design, Google Analytics and other areas that have raised the ROI for this client.
An online tax solution company client boasts over 250,000 new registered users, over 100,000 new customer transactions and a striking 84% revenue increase through BeeSeens PPC strategies and management. This client also hired BeeSeen for SEO consulting and quality link building.
For a higher education program client, BeeSeen has generated a 100% increase in customer sign-ups year over year. To coincide with their PPC management efforts, BeeSeen has managed numerous projects to increase PPC conversions and SEO rankings, such as landing page development and message/content editing. BeeSeen achieved #1 Google rankings for this client in very competitive areas.
Another client, a local rustic furniture company, benefitted from BeeSeens SEM expertise. BeeSeens recommendations, based on keyword research and search trends, resulted in a new product line for this business. The value-added benefit here was beyond more sales conversions; it was influencing a change in strategy to the companys core business offering. This is a good example of how BeeSeen integrates in depth SEM efforts into the overall marketing mix.
About BeeSeen:

BeeSeen focuses on E-Marketing services to help companies increase their online visibility, and more importantly increase their sales. The following is a breakdown of some of BeeSeens core capabilities: E-Marketing Strategy, Search Engine Marketing (SEM) including Search Engine Optimization (SEO) and Pay Per Click (PPC) Management, Display Advertising, E-mail Marketing, Social Media Marketing, Revenue and Conversion Lift Consulting and Website Analysis and Reporting. More information on BeeSeen can be found on their website: http://www.beeseen.com.