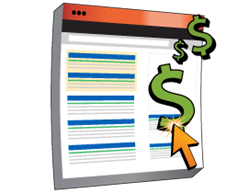 Charlottesville, VA (PRWEB) April 10, 2013
When it comes to pay-per-click (PPC) advertising on search engines, many marketers face a common challenge: standing out from other businesses on a search engine results page where competition is fierce. Search engine marketing agency Search Mojo will demonstrate ways marketers can enhance their PPC ads to not only attain more clicks, but also conversions, during a webinar entitled Getting More Clicks and Conversions from Your PPC Ads." The webinar will be held Thursday, April 11 at 2 p.m. ET.
Tad Miller, Vice President of Accounts, and Nelson Hudspeth, Junior Account Manager, will show marketing professionals how to utilize features such as sitelinks on both Google and Bing to improve PPC ad performance.
PPC advertising can be a fierce battleground for advertisers, especially on high-traffic keywords, explained Miller. Its extremely important to take advantage of features that will allow you to enhance your ads, stand out from the crowd, and convert clicks into buyer interest.
An example of these features is Googles Ad Extensions for AdWords. According to Google, their recently upgraded ad extensions provide AdWords marketers with enhanced features and greater flexibility than non-upgraded extensions, providing several opportunities for attracting more PPC ad clicks.
Sitelinks and ad extensions in Bing and Google can be a very effective way of catching the eye of potential customers, and have shown to increase click-through rates by an average of 30 percent, said Hudspeth. We will be explaining how these enhancements work, and how they can best be leveraged in a campaign.
To register and learn more about this webinar, go to http://www.search-mojo.com/graph-search.
About Search Mojo

Recently ranked on the prestigious Inc. 5000 list as one of the fastest growing businesses in America, Search Mojo specializes in search engine marketing, social media advertising, content marketing and analytics services. Founded in 2005, Search Mojo uses the latest information and techniques to help companies improve their conversions and lead generation through search and social tactics. Learn more about Search Mojo at http://www.search-mojo.com or read our blog, Search Marketing Sage, at blog.search-mojo.com.