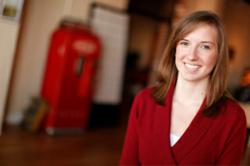 CHARLOTTESVILLE, Va. (PRWEB) November 29, 2012
Sarah Lokitis, Social Media Manager at search engine marketing agency Search Mojo, will discuss how social media marketing affects search engine optimization at the 2012 SMX Social Media Marketing Conference, being held December 5-6 at the ARIA Resort & Casino in Las Vegas, Nevada. Lokitis session, entitled SEO for Social Media Managers, will be on Thursday, December 6th between 9:00am-10:15am.

Search engine optimization must now be an integral part of a companys social media plan. Lokitis will discuss ways to use social media for link building and overall SEO efforts. She will give examples of the different ways to work with a companys SEO team, as well as share ideas for integrating SEO and social media.

Ill be discussing some of the ways social media managers can use SEO techniques to build links, focus on keywords, and optimize content for sharing, said Lokitis. Specifically, Ill be addressing why open graph tags are important for Facebook sharing, why Google+ authorship is a priority for online writers, and where to incorporate focus keywords and links in your social strategy.

The SMX Social Media Marketing Conference will host sponsors, partners, and exhibitors to demonstrate how to successfully use social media tools in business. The conference is designed for online marketers with a concentration in social media optimization.

For more information about SMX, follow @smx on Twitter.
About Search Mojo

Recently ranked on the prestigious Inc. 5000 list as one of the fastest growing businesses in America, Search Mojo specializes in search engine marketing, social media advertising, content marketing and analytics services. Founded in 2005, Search Mojo uses the latest information and techniques to help companies improve their conversions and lead generation through search and social tactics. Learn more about Search Mojo at http://www.search-mojo.com or read our blog, Search Marketing Sage, at blog.search-mojo.com.