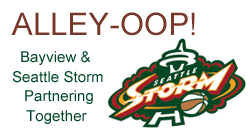 Seattle, WA (PRWEB) May 29, 2013
Seattle retirement community, Bayview Retirement Community, is excited to be partnering with the WNBA's Seattle Storm for their opening night game versus the Pheonix Mercury. Bayview will be the 'Community Spotlight' at the Seattle Storms opening game on Sunday, June 2 at Key Arena. This event will feature a pre-game tailgate party, as well as a Bayview video to be shown at the game.
Tickets for the event will be $ 25 each and include parking, a tail gate party at Bayview Manor and reserved seating at the game. The tail gate party will begin at 4pm, with the game between the Seattle Storm and the Pheonix Mercury beginning at 6pm, the first game of the Seattle Storm's 2013 season.
The Seattle Storm and Bayview Manor Retirement Community are both members of the Queen Anne Chamber of Commerce, which is where this opportunity as a non-profit to be a community partner with the Seattle Storm grew.
The Bayview Retirement Community is home to more than 210 residents, and offers the convenience and safety of retirement community living with the freedom of living on one's own. The major goal of Bayview and its entire staff is to help residents remain independent and active as long as possible.
Events such as the Seattle Storm game and tailgater are one of the many activities that provide residents and families both with entertainment, as well as an opportunity to reach out to the community of Seattle.
With the help of the Seattle Storm, Bayview Retirement Community hopes to continue its mission of "transforming the experience of aging by creating opportunities for healthy, spiritual and purposeful living for our residents, children, staff, and the greater community."
To purchase tickets or for more information, contact Jennifer Ahrens at: jahrens(at)bayviewmanor(dot)org.