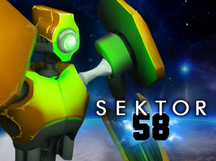 London, United Kingdom (PRWEB) April 09, 2013
Crowdcell Ltd announced today a new Kickstarter campaign to help raise funds to complete the development of 'Sektor 58', a Space-Epic action RTS game with RPG elements, for PC, Mac and Linux.
View the Kickstarter campaign here
"One of the unusual things about this Kickstarter campaign is that unlike other crowd funding projects launched in this genre, we are a long way into development", said Jerry Anderson, CEO of Crowdcell Ltd.
"We felt that it was important to have more than just a concept to show the community and have invested heavily in producing a playable Alpha. Now we need help to finish development and launch the game".
The game story is centered around two factions who are engaged in an on-going power struggle to control 'Sektor 58', a solar system of habitable planets in a galaxy many light years away.
There will be both single and multi-player versions of the game.
In single-player mode, players will follow the core story and command a Battalion of Resistance fighters consisting of Drones, Droids, Troopers and other 'Bots'. They will be sent on inter-planetary missions to locate and destroy the enemy.
In the multi-player version, players will be able to challenge friends to one-time tactical battles, with one side playing the role of 'The Resistance' and the other, 'The Syndicate' (the enemy).
In order to progress in the game, players will need to:


Engage in intense fire-fights, outwit and overcome Syndicate forces in various combat scenarios.
Hack into Syndicate Cyber-Systems enabling them to take control of their bots.
Arm their battalion with powerful futuristic weaponry with monumental destructive power.
Request 'orbital drops' of backup fighters from their Transporter.
Make tough tactical decisions and use effective battle management skills.
The required funds will be used to hire additional (and much needed) programmers, environment artists and audio specialists who will work with the current team to make this game a premium title and one of the most exciting games of 2013.
Kickstarter Project: http://www.kickstarter.com/projects/1750875302/sektor-58

Facebook: http://www.Facebook.com/sektor58

Website: http://www.Sektor58.com