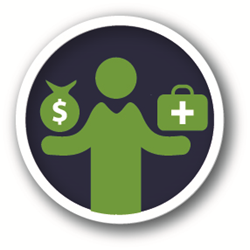 Eagan, MN (PRWEB)
July 07, 2015
SelectAccount, one of the nations top leading administrators of medical savings accounts, has officially launched FreeSaver, a free health savings account (HSA). At a time when more employers are offering high-deductible health plans (HDHP) in place of traditional plans, people are looking for solutions to offset rising health care costs without paying more out of pocket. Taking medical savings accounts to the next level, SelectAccount recognizes the growing need for affordable accounts to help people jump start their health savings plans.
To encourage savvy consumer habits and help people maximize their savings, SelectAccount created FreeSaver – a truly free health savings account. This helps people reap the tax benefits of a health savings account without the burden of additional fees that many providers charge, such as account opening or closing, overdraft and maintenance fees. Without chipping away at account holders base balances, SelectAccount encourages people to make the most of their HSAs by saving for future health care expenses.
With the SelectAccount advantage, medical spending accounts are now easily accessible for anyone with an eligible HDHP. Paired with WalletDoc, our affordable suite of consumerism tools, people can now save and shop for health care expenses, just like they do with anything else. This platform option helps people navigate their health care with decision support, procedure cost comparison, online care, medical discounts, bill negotiation and health management tools. Located where people are already checking their balances and paying claims, WalletDoc puts the decision in the hands of the consumer, making savvy health care shopping a reality.
SelectAccount Vice President of Marketing, Sales and Public Relations, David Cantu comments, As we move into the next generation of HSAs, we recognize the growing need to equip employers and individuals with affordable tools to pair with HDHPs. FreeSaver and WalletDoc not only helps people save tax-free dollars, but stretches those dollars further with smart health care decisions.
An HSA is a tax-free account that lets people save and pay for health expenses. Unlike a traditional flexible spending account (FSA), HSA funds do not adhere to the use it or lose it rule or limit the amount that can be rolled over to the next year. Anyone looking to open an HSA must have an eligible HDHP that meets IRS guidelines for the annual deductible and out-of-pocket maximum. Once an account is opened and funds are contributed, the account and its funds are available to the individual throughout their lifetime, regardless of employment or location. Any expenses contributed or withdrawn while enrolled in an HDHP are tax-free, creating a financial safety net when people need it most, making this a benefit to any individual.
SelectAccount offers additional HSA types, such as PremiumSaver, SelectSaver, BasicSaver and ThriftSaver, which allow account holders to accrue tax-free interest on their contributions and participate in tax-free investment options. While small monthly administration fees do apply, SelectAccount helps maximize tax benefits without charging additional fees. All HSA plans offer several reimbursement options and a secure online member center with access to WalletDoc election so account holders can save on health care expenses and manage their HSAs and investments on the go. For information about SelectAccount HSAs and WalletDoc, please contact us at SASales(at)SelectAccount.com or call 855-363-2583 and start saving today to prepare for tomorrow.