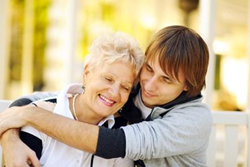 Denver, CO (PRWEB) May 16, 2014
Senior adults, those 65 and older, increasingly use the internet for mail, shopping, and social networking, and the Senior Directory is paying attention. They have recently redesigned their website and plan to make it an important part of their companys role in providing senior-focused resources.
As more and more seniors turn to the internet for information about lifestyle choices, we want to be sure were there for them, says Stephanie Milzer, National Marketing Director for the Senior Directory.
According to Pew Research, internet use by seniors has grown from 53% to 59% in the past year. 47% have a high-speed broadband connection and 77% have cell phones. While these numbers still lag behind the general population, the growth rate is higher, especially among seniors in the 65-75-year age group. That fact is not lost on Milzer and her son Alex, the companys Director of Business Development. Todays new seniors have spent most of their lives interacting with computers in one way or another, he says. Theyre much more likely to be comfortable with the internet and smart technologies than people even as little as ten years older. And if theyre not, their kids certainly are.
The Milzers should know, since their business is multi-generational. Harvey and Stephanie Milzer started the family-owned company 13 years ago in Denver when they bought the rights to a directory business. A few years ago, son Alex joined the company to help manage its growth. Harvey heads the company as its CEO, and Stephanie and Alex handle marketing and development.
Since its inception, the Senior Directory has grown to a distribution of over 1.5 million copies distributed in 14 major U.S. markets with a pass-along reach estimated at 5 million readers annually. Their services include a toll-free advice line connected to expert local staff in each of the markets they serve. Were in a trust business, says Stephanie. Our readers want to know that the resources we direct them to and the advice we give are reliable and have their best interests in mind.
The Senior Directory tailors its content to the market where it is distributed. For instance, the directory is published in four distinct areas of Tennessee centered on the cities of Memphis, Chattanooga, Nashville, and Knoxville. This keeps the content relevant to residents of a specific area so they can find resources nearby and articles with local appeal, Alex says. Each directory can have its own unique cover that features items of interest to its readership rather than a one-size-fits-all topic for the whole country.
This desire to keep things easily accessible is what is causing the Milzers to look at the internet with a fresh perspective. In 2012, there were 43 million Americans 65 and older. That number is expected to grow to nearly 84 million by 2050, and computers and smart technology will have been a big part of nearly all of the 21 million new seniors. Aging-in-place is high on the wish list of todays seniors, and the Senior Directory wants to play a big part in making that happen. With mobility issues arising as part of aging, access to online information and resources will help seniors remain independent longer as well as keep them in touch, at least virtually, with their families no matter where they may be, Stephanie says. They will be able to take part in activities they may not have known about before, both online and in the real world. They will be able to shop and conduct their personal business from home. More and more medical services are coming online, too, so they may even be able to cut down on visits to the doctor. We want to be sure they have a place they can go that they trust to put them in touch with safe, reliable sources for all their needs.
Printed editions of the Senior Directory reach about 5 million users each year, and plans are in place to expand into more markets throughout the country. But the Milzers know that the internet is the place to be to reach an increasingly computer-savvy senior population. Thats why they contacted Denver website development and marketing company The Unleaded Group last year to take their internet presence to the next level.
When the Senior Directory came to us with a vision for their future, we were excited, says Unleadeds president, Jarod Clark. We saw the tremendous potential in the senior market and were eager to help them reach into it more deeply. Senior Directorys redesigned site, http://www.seniordirectory.com, is structured similarly to their printed guides, with visitors able to select individual markets to find resources nearby. As we add more markets, visitors to our site will have local resources to choose from, Alex says. But now, seniors and their loved ones everywhere have access to articles and information from a database thats the countrys largest source of information specifically tailored to their needs. Weve even added a monthly e-newsletter so people outside our home markets can keep up-to-date on the latest information about senior living.
Theres plenty of evidence that 21-century seniors are looking to the internet for information in rapidly-growing numbers. Companies like Senior Directory see it and are ready for the future.
For more information, contact:
Alex Milzer

Director of Business Development

alex(at)seniordirectory(dot)com

http://www.seniordirectory.com

303.718.2001