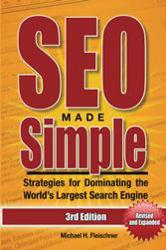 Robbinsville, NJ (PRWEB) April 18, 2013
Search engine optimization (SEO) is the practice of affecting the ranking of a website or a web page in search engine listings. Online media has begun talking about an upcoming change to the Google algorithm which impacts how rankings are determined. To manage this change proactively new materials are being produced to guide webmasters and SEO's in the optimization process.
Leading SEO author, Michael H. Fleischner has released the 3rd edition of his top-selling book, "SEO Made Simple: Strategies for Dominating the World's Largest Search Engine." The updated and revised guide, available on Amazon.com, contains the latest information on how to prepare for the upcoming Google algorithm changes and maintain search engine rankings.
"The biggest change we see coming is the impact of content and social," says SEO author Michael H. Fleischner. "The latest algorithm change, titled Penguin, started the process of weighting original quality content heavily, favoring sites that provide quality information on a regular basis. This trend will continue with the next update."
The new edition of SEO Made Simple provides additional information regarding content optimization and promotion, the impact of social media, and other factors that have a direct correlation with organic search results. Content development is growing in importance and being integrated into the web strategy of many businesses. SEO Made Simple shows readers the most effective content to produce for enhanced social engagement and rankings improvements.
Social media optimization is also a growing factor in organic search results. Many websites have integrated social media but are still unaware of best practices for using social media to improve organic rankings. This guide includes an updated chapter on how best to leverage social media accounts and updates for link development and authority.
"There are other books out there about SEO promising the latest and greatest information but you have to consider the source. Putting a cover on a book from last year and professing that it's for 2013 & beyond is just dishonest," says Fleischner. "That's why we've taken the fundamentals of SEO Made Simple and updated them for the general population. More than 275 positive reviews have been posted regarding the book which has sold more than 20,000 copies.
SEO Made Simple (3rd Edition) is available on Amazon.com, ISBN-13: 978-1481838061.