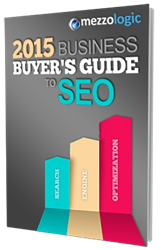 Los Angeles, CA (PRWEB) January 23, 2015
MezzoLogic, a premier SEO and digital marketing agency located in Los Angeles announced the release of their 2015 Business Buyer's Guide to SEO on their website, http://www.mezzoseo.com.
This guide was written to help enterprise executives and business owners understand how true SEO works, how to implement sustainable SEO strategy, how to spot bad SEO companies and how to find the right SEO partner, said Dieter S. Hsiao, the CTO and co-founder of MezzoLogic. The guide aims at helping them to make educated decisions when selecting an SEO agency.
According to the MezzoLogic website, about fifty percent of all business leads are directly related to internet sources, everything from direct advertising to online searches.
Its obvious that every savvy business must pay attention to these valuable revenue sources, said Hsiao. And I believe this trend will only continue to climb, becoming more dominant in the future.
The 2015 Business Buyers Guide to SEO is for any business that owns and operates their own website. It is intended to provide a detailed but clear explanation of how SEO works for a website to rank highly in search engine results and, ultimately, to attract quality visitors.
According to the website, the way to attract large numbers of relevant search engine visitors is to rank in the top ten or higher in search engine results for the terms related to a customers business.
The buyers guide discusses how a qualified SEO company will provide key deliverables that will help a website rank highly in search results, such as well-written, interesting and unique content, link and partnership creation with reputable websites and professional press releases that help to spread the word about a company.
About MezzoLogic
MezzoLogic is a leading digital marketing agency located in Los Angeles, California, which provides SEO, SEM, PPC, Analytics, Conversion Optimization, Reputation Management, E-mail Marketing and other internet marketing services to businesses in southern California and nationwide. For more information, please visit https://www.mezzoseo.com
Address: 515 S. Flower St., 36th Floor, Los Angeles, CA 90071, United States

Phone: 213-236-3656

Email: dieter(at)mezzologic(dot)com

Twitter: https://www.twitter.com/mezzologic

Facebook: https://www.facebook.com/mezzologic