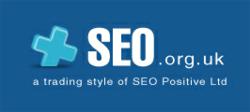 (PRWEB UK) 10 September 2012
Pay Per Click (PPC) advertising has undergone some negative press as of late with some American industry experts claiming that is becoming increasingly less effective specifically as a lead generation tool. Search Engine Optimisation specialists at SEO.org.uk do not share this belief, so they have announced their reasoning behind their belief that PPC is still an effective advertising tool.
Pay Per Click (or Paid Search as its also known) is a popular alternative to organic SEO whereby companies can bid for advertising space within the generated search results. These adverts will be linked back to a specially designed landing page which purpose is to encourage the user to enquire or buy on the given website increasing the volume of website traffic.
Head of Paid Search at SEO.org.uk comments on the effectiveness of PPC:
Pay Per Click is a great marketing and advertising technique which has many advantages to help boost an organisations conversions, click-through rate, return on investment and many more. PPC campaigns are effective for all sorts of businesses, no matter how big or small the organisation or their budget.
Reasons why Pay Per Click is still a great advertising tool: